POLITICS
Mr 'Free SHS' Napo grabs honorary doctorate …for changing the face of Ghana's Education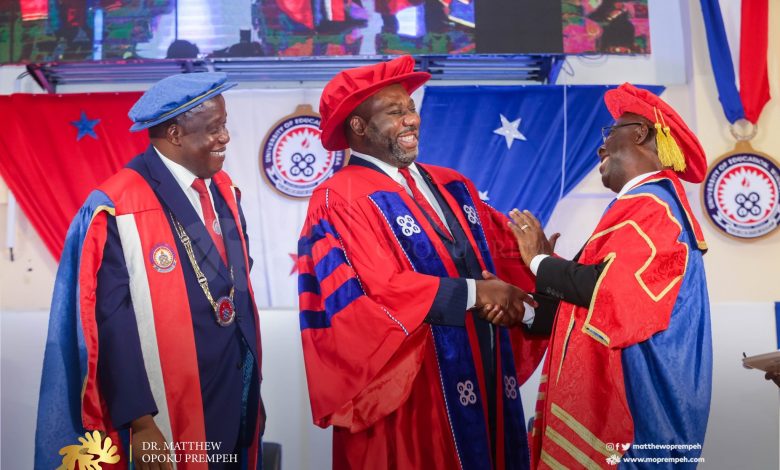 MATTHEW Opoku Prempeh aka 'Napo', is a proud recipient of an Honorary Degree from the University of Education, Winneba, for his significant contributions in positively changing the face of the educational sector within just four years that he served as Education Minister.
The top university is highly impressed by the various positive reforms, pragmatic programmes and insightful leadership that Napo, who is the current Minister of Energy, brought to the Education Ministry, during his tenure as minister, hence conferring the enviable academic award on him.
The honorary doctorate degree was particularly in recognition of the unique leadership that Napo provided in introducing the Free Senior High School (SHS) policy, the flagship programme of the President Nana Akufo-Addo's government, which has seen huge improvement in school enrolment.
Aside Napo, the top university also conferred doctorate degree on former Speaker of Parliament, Prof. Aaron Mike Oquaye, for his invaluable contributions to the development of education and the country over the years, during a Special Congregation of the school, held at Winneba.
Postponement of Event
Originally, the programme was supposed to take place in late 2020 but it was postponed by the school management due to the COVID-19 restrictions and other considerations.
After several months of waiting, the historic programme, which is the sixth Special Congregation of the university, eventually took place yesterday (Wednesday), attracting top dignitaries such as Madam Frema Osei Opare, the Chief of Staff, who represented President Nana Akufo-Addo.
Also in attendance were prestigious traditional leaders from Asanteman including Oheneba Owusu Afriyie VI, Otumfuo's Apagyahene, Baffuor Agyei Fosu Twitwiakwa II, Nana Agyekum Kusi II, Oyokohene of Kumasi, Anantahene, Barimma Sei Kwadwo II, Mamensinhene and Baffuor Yaw Boateng, Dominasehene.
Napo's Achievements
A citation read before the award was conferred on Napo by the school, indicated the fact that Napo, against all odds, worked tirelessly to help implement the New Patriotic Party (NPP) government's famous free SHS programme, which has helped students from all backgrounds to access university education.
Napo's efforts in bringing total reforms in Curriculum Review, Teacher Education, Licensure Programme, Capitation Grant, Teacher Pathways, GALOP, Teacher Promotion, Teacher Selection, Retention and Incentives and Technical, Vocational, Education and Training (TVET) also received a mention.
Prof. Oquaye's Achievements
In Prof. Oquaye's citation, it was stated that he has over the years contributed his quota, through the writing of books, journals and articles to help improve the standards of education in the country, adding that his contributions to the general development of the country was unique and should be applauded.
President Nana Addo Dankwa Akufo-Addo, without mincing words, described Napo and Prof. Oquaye as two illustrious sons of mother Ghana, who have over the years played significant roles to help bring the country to its present enviable status, stressing that "they deserve this prestigious award".
In a speech read on his behalf by the Chief of Staff, Madam Frema Osei Opare, the president said "I have known and worked with these two outstanding sons of our country and in fact, both of them and they are an integral part of the success of my government and our motherland Ghana in general".
Vice-Chancellor's Speech
Rev. Fr. Prof. Anthony Afful-Broni, in his address, said Napo and Prof. Oquaye have diligently served the country for so many years and so the management of the university saw the need to confer honorary doctorate degrees on them to let them known that the country appreciates their splendid works.
Chairman of the University Council, Prof. Obeng Mireku, said both honourees have exhibited patriotism, hard work, exemplary leadership, professionalism, patience and commitment to duty, which has gone a long way to accelerate national development so they duly deserve to be honoured.
He particularly described Napo, who is also the Member of Parliament (MP) for Manhyia South in Kumasi, as a bold leader and commended him for taken bold and pragmatic decisions that has contributed to change the face of the country's educational sector for the better, urging him to sustain his good works.
Acceptance Speech
Prof. Oquaye said he and Napo were grateful to the university for realizing their efforts to help take the country to the next level, pointing out that the honorary degree would serve as a morale booster for him and Napo to continue to sacrifice their time, energy. expertise and others to serve Ghana.
Napo said he was humbled for being recognised and honoured by the university, stressing that he would dedicate the award to President Nana Akufo-Addo, who gave him the chance to serve as a cabinet minister in his administration, adding that the he was also grateful to God, his creator.
Napo's Past Awards
Napo, who is a medical doctor by profession, has bagged several top notch awards from across the globe over the years for his outstanding leadership and contributions to the development of the country and its people.
For instance, he has emerged as Ghana's Best Minister on two occasions (2017 and 2019) and he was also the 2020 recipient of the Harvard Ministerial Medal of Achievement award, in recognition of his work over the past four years towards strengthening public sector education in Ghana.