Showbiz
Wendy Shay Claims Her Lawyers Will Deal With Youtube For Pulling Down Her "Pray For The World Song"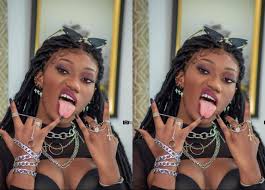 Ghanaian songstress, Wendy Shay's recent music video has been flagged by video streaming platform, Youtube after being reported to have stolen the beat.
The song dubbed "Pray for the World was purposely pulled down due to copyright issues and this has pissed the singer off.
She's said to have sampled someone's song hence a group of people reported the song to a video giant which led to the strike on her channel.
Music producer, MOG took to social media and revealed that Ghanaians are behind the reasons why the song pulled down a Wendy Shay swiftly responded.
She noted that that's now Ghanaians are and will fight against Youtube for pulling down the song.
She wrote, "@mogbeatz this is the Country we are living in ooo …I will fight for my right because Pray for the World has a different chord progression from Jerusalem. SHAYGANG don't worry my lawyers are dealing with YouTube
prayfortheworld"