POLITICS
PUBLIC TAUNT INCOMPETENT MAHAMA IN 'ONE-TERM' LINGO
After incompetent JM applauded fight in Parliament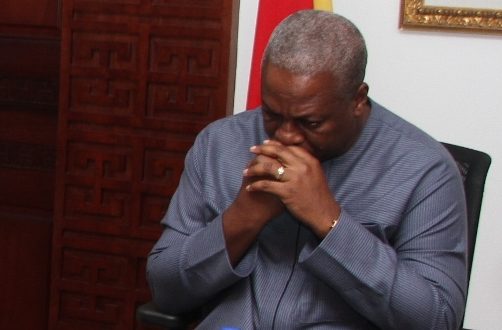 The general public, angry with John Mahama over his patent endorsement of the mess that was caused largely by his marauding Member of Parliaments on the eve of the induction of His Excellency, Nana Addo Dankwa Akufo-Addo as President, has heavily taunted the former President by tweet, trumpeting why they believe he is a just a lucky, one-term President.
Tweets
NBA @boakyewaa_N says he looks forward to working with One-Term President Mahama in that same manner that Joe Biden taunted Trump, saying he [Biden] looked forward to working with Trump [when he stopped misbehaving].
#OneTermPresident " I look forward to working with President Joe Biden"

Joe Biden; pic.twitter.com/jUh6hM1fDw

— N.B.A (@Boakyewaa_N) January 13, 2021
Another, who ridicules Mahama as 'His President', projecting into the future, says: "After the Election Petition, we can state that the One-Term president is an ex-President for the 3rd Time.
After the election Petition, can we state that the one Term president is an ex President for the 3rd Time 😆 #oneTermPresident

— MY President !!!! (@LiveYourlifeAK) January 13, 2021
Then, we yet have another tweet that queried Mahama as to when OKADA became a flagship message for any normal politician. That came from N.B.A @boakyewaa_N
Okada as flagship message? & you wanted us to vote for you? 😂😂😂😂 #OneTermPresident

— N.B.A (@Boakyewaa_N) January 13, 2021
The barrage of responses gets shriller as akwasi antwi@step625 hails Akufo-Addo as the 'right choice' for Ghana and Mahama as 'ex-president forcing himself [through violence] to become a president'.
President @NAkufoAddo was the right choice and Ghanaians reaffirmed their trust in him. There's another ex ex president struggling to force himself on Ghanaians. 😂😂 Mr. #OneTermPresident pic.twitter.com/XKoQNZTbCi

— Akwasi Antwi (@step625) January 13, 2021
TeamMelody, adding to the fun, asked Mahama how he could access the prized position of a President of Ghana when he could refer to a top German vehicle brand, VW, as 'aportro'.
How can Ghanaians hand you the presidency when you refer VW cars as "apotro" car.Forward(@NAkufoAddo)ever backwards(#OneTermPresident) never#OneTermPresident pic.twitter.com/0B6T1Elx62

— Team Melody (@TheteamMelody) January 13, 2021
He adds: 'Forward Ever, Nana Addo, Backwards Ever, John Mahama'.
Finally, we have the KeyBoard Warrior saucing the menu with the pun: 'Mahama really lost as a Sitting President and as Opposition President'.
Proper Leader. Competent President.

No wonder Ghanaians gave you a second term.

Unlike Mr Dead Goat aka #OneTermPresident pic.twitter.com/g4jSAKFPrQ

— The Keyboard Warrior (@kbd_warrior_su) January 13, 2021
History
Mahama, who has a history of being spoon-fed into high political office by the Ahwois and who capped that with supervising the death and burial of JEA Mills and Vice President Amissah-Arthur, woefully lost the 2016 and 2020 elections, after evidence showed he attempted and succeeded in stealing the verdict in 2012.
It was the Supreme Court that saved his credibility for the meantime as reforms were put underway at the corridors of the Commission that ultimately led to his agent, Charlotte Mensah, being jettisoned from repeating another Hand of Satan.
Unfortunately for him, he couldn't sustain his crooked ways of being in leadership as he made a ridiculous first term only, earning the negative accolade, One-Term President.
By: KOFI KYEREBONE, TheThunderGhNews