POLITICS
We are indebted to you – Mahama to Volta Region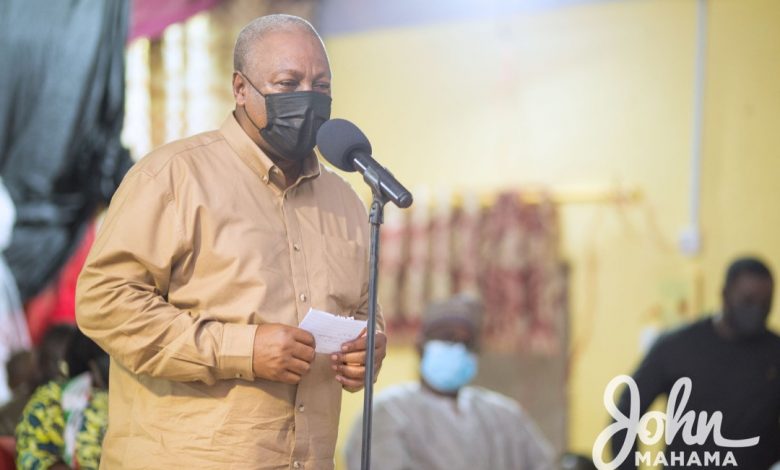 Former President John Dramani Mahama has stated that the National Democratic Congress (NDC) party will remain indebted to the people of the Volta Region for their overwhelming support in the 2020 elections.
He said although the party lost one of the seats in the region to the New Patriotic Party (NPP), the votes of the NDC appreciated by 113,000, an indication of the love the people had for the party.
Mr Mahama, who is on a "thank you" tour of the region with the leadership of the party, expressed the party's appreciation to the people when he paid a courtesy call on the Paramount Chief of the Asogli State, Togbe Afede XIV.
He said despite the intimidation during the registration, the closure of the borders, the Western Togoland issues and the invasion by soldiers, the NDC still had an appreciable vote of 113,000 ballots, with 17 out of the 18 constituencies in the region.
The NDC, he said, lost the seat because of the machinations of the government to prevent the people of Santrokofi, Akpafu, Lolobi and Likpe (SALL) from participating in the parliamentary election.
Highest percentage
Mr Mahama said the NDC got the highest percentage of votes in the Volta Region compared to other regions in the country and indicated that the party did not take that for granted.
He said there had been false statements that the Volta Region did not see any development under the NDC government, describing it as a "palpable falsehood" and indicated that every major project in the region was undertaken by the NDC, including water, schools, universities, roads, electricity, hospitals, among others.
"When we came into office, the Volta Region did not have any public university. Any child that wanted to go to the university had to leave the Volta Region to Cape Coast or to Kumasi or Legon. And Professor Mills of blessed memory said no, every region must have a university. Today thank God, we have the University of Health and Allied Sciences and Ho Technical University," he added.
Mr Mahama, however, lamented that everything his government started and could not complete including the Eastern corridor road, the seven new Community Day Senior High Schools that were under construction, and the Sokode-Ho dual carriage had come to a standstill.
He challenged the NPP to show evidence of the work they had done by listing the said projects. The region, he promised, would have its fair share of the national cake if the NDC came back to power.
Source: Graphic online