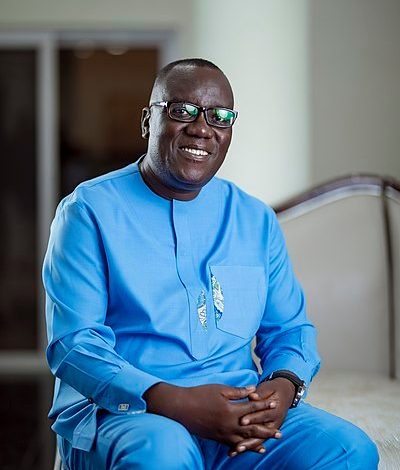 THE MORTAL remains of Lawyer Kwadwo Owusu Afriyie aka 'Sir John' will be interred at his family cemetery at Sakora Wonoo in the Kwabre East District today (Thursday) June 3, 2021.
The deceased politician fell ill and was hospitalized for some days but unfortunately he succumbed to the deadly disease on July 1, 2020, which is eleven months ago.
Until his death, Sir John, who was an astute lawyer with many years of practicing experience, was serving as the Chief Executive Officer (CEO) of the Forestry Commission, where he performed excellently.
According to the funeral arrangements released by the bereaved family, the body of Sir John would be laid in state at the Sakora Wonoo Junior High School Park for the public to pay their last respects to him.
Definitely, the entire National Executives of the ruling New Patriotic Party (NPP) would trek to Sakora Wonoo today to bid farewell to Sir John, who once served as the General Secretary of the NPP for one-term.
Also expected to grace the solemn occasion is President Nana Addo Dankwa Akufo-Addo, who would be leading a powerful government delegation including ministers of state, CEOs, MMDCEs and others.
From the opposition National Democratic Congress (NDC), surely party General Secretary, Johnson Asiedu Nketiah aka 'General Mosquitoe', would definitely be there to bid farewell to his long time friend, Sir John.
Sir John and Asiedu Nketiah were best friends even though they belonged to different political parties. During Sir John's one-week celebrations, Asiedu Nketiah led an NDC delegation to mourn his best friend.
The Man Sir John
The late Kwadwo Owusu Afriyie popularly known as Sir John played an instrumental role in the New Patriotic Party's (NPP) victory in 2016.
He became CEO of the Forestry Commission in March 2018 after being appointed to that position by President Akufo-Addo.
The lawyer cum politician was born in the Ashanti Region of Ghana.
He attended Seventh Day Adventist Secondary School in Bekwai from where he obtained his GCE Ordinary level certificate.
He then proceeded to obtain his GCE Advanced level certificate from Konongo Odumase Secondary School in Konongo.
He was admitted to study political science at the University of Ghana.
He then enrolled at the Ghana School of Law where he graduated with Bachelor of Laws.
After this he was admitted as a solicitor and counsel for the Supreme Court of Ghana.
Afriyie entered into private law practice in 1981. During the John Agyekum Kufour administration, he was appointed head of legal services at the Ghana National Petroleum Corporation.
He was later made to act as the Deputy Chief Executive Officer of the corporation.
While managing his firm, Afriyie was also actively engaged in Ghanaian politics.
He served as the General Secretary of the New Patriotic Party from 2010 to 2014.
He lost his bid to secure a second term to Kwabena Agyapong.