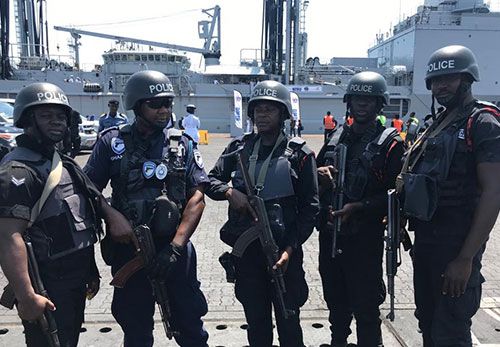 ARMED POLICEMEN had to fire series of warning shots in order to scare away a blood-thirsty mob that had besieged a court premises in the Ashanti Region to lynch a murder suspect.
Suspect Owura Kwaku, said to be 20 years old, allegedly, beheaded a four year old girl, Benedicta Owusu Sarpong, and he was being brought to court for the first time last Wednesday.
Angry-looking residents of Offinso, in the Ashanti Region, that got wind of Owura Kwaku's presence in the courtroom, stormed the Offinso Circuit Court premises ostensibly to lynch him.
The Offinso Police realized that it was possible for the mob to snatch Owura Kwaku from them and lynch him, so they cleverly called for reinforcement, which, arrived on time.
The police, who were armed-to-the-teeth, fired series of warning shots into the sky, which sent the people running helter-skelter before they could whisk the suspect to the prison.
From police investigations, Owura Kwaku on Tuesday (April 27th 2021) lured the four year old girl into a bush, cut her head, concealed the severed head and body in a sack and buried it in a bush.
Benedicta was declared missing on Tuesday and all efforts to locate her proved futile.
The police after investigations went to the bush and retrieved the body one week after the girl got missing.
The police gathered that Owura Kwaku may have a hand in the murder of the girl so they invited him for interrogation but he fumbled and openly panicked all the time, so he was arraigned.
Meanwhile, the court has remanded Owura Kwaku into prison custody and he would reappear in court on June 9, 2021.