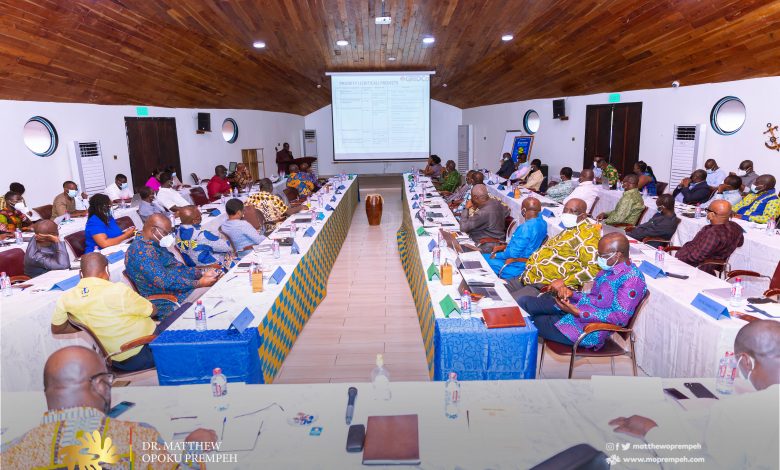 ENERGY MINISTER, Dr. Matthew Opoku Prempeh aka 'Napo', yesterday, opened a four-day retreat to discuss proper ways to generate more power for the country to help meet the power demand of the ever swelling population.
The 'Energy Sector Work Programme Retreat for 2021' is currently taking place at the Aqua Safari Resort in Accra, in the Greater Accra Region and it is being attended by virtually all the major players and relevant stakeholders in the energy sector of the country.
Directors of the Ministry of Energy and Senior Management of the various agencies in the sector are attending the programme to take stock of the ministry's activities for last year and also strategize to improve on their performance this year.
Napo, who is also the Member of Parliament (MP) for Manhyia South, in his address, stressed the need for the country to generate more power to meet country's power needs, which keeps growing due to growing population and urbanisation.
According to Energy Minister, "there is going to be a strict accountability regime in respect of both public officers and the Independent Power Producers (IPPs), therefore he called for concerted efforts in order to ensure that Ghanaians "are not short-changed in any way".
He said his core vision for the sector reflected the New Patriotic Party's (NPP) 2020 Manifesto on energy, together with the president's vision of safe, affordable and reliable energy for the country in a bid to meet its energy needs for domestic consumption and industrialisation.
Explaining the Power Purchase Agreements (PPAs) that government intended to renegotiate with the IPPs, Napo stated that the challenge had been that these were negotiated in an emergency, at a time that the nation had fallen on hard times.
Still throwing more light on the issue, the Energy Minister, who is noted for causing positive change in his working environment, said "since the nation had fallen on hard times at the time, it therefore meant that we were in a weaker position to negotiate those agreements in our favour".
According to Napo, who is widely seen by Ghanaians as the suitable person to bring the needed renaissance to the energy sector, going forward, the country should opt for "take and pay" position, insisting that there would not be government guarantees with respect to future negotiations.
As a country, the minister asserted, "Ghana needs to negotiate now, not when we are in hard times", adding that "considering the 5-7 years power crisis cycle in the country, Ghana has to invest in infrastructure to be able to contain the growing population.