POLITICS
Nana, Bawumia congratulate workers on May Day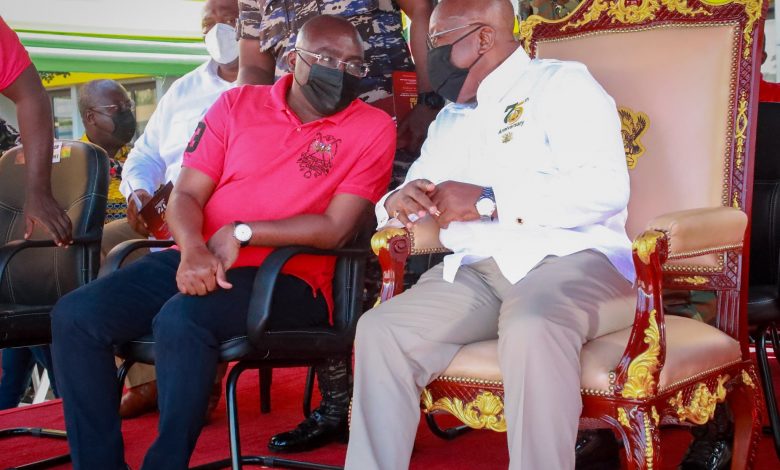 President Nana Akufo-Addo and his vice, Dr. Mahamudu Bawumia on Saturday May 1, joined Organized Labour at the forecourt of the Trades Union Congress (TUC) building in Accra to mark the 2021 Workers' Day.
The President thanked workers of the country for their selfless contribution in holding the country's economy in one piece despite the trying situations caused by COVID-19 in the last year.
He said since he became President, on 7th January, 2017, some three and a half years ago, the relationship between Government and Organised Labour has been one of cordiality, co-operation and mutual respect.
"I continue to be reassured by the determination of organised labour and its leadership to rally behind government to create a progressive nation, buoyed on by faster economic growth rates, and driven by the quest for decent jobs. I have been heartened by this, and I am determined, for as long as I remain President of the Republic, to continue even more firmly on this path of co-opetration and collaboration on which we have embarked", Nana Addo added.
Nana Addo noted further: "I will continue to urge all of us to continue to practice social distancing, wash our hands with soap under running water, refrain from shaking hands, and, wear our masks whenever we leave our homes. Businesses and other workplaces should operate, and observe staff management and workplace protocols of social distancing. This applies equally forcefully to public transport operators and users of our market places. We must observe these measures religiously, as they are the weapons of our battle against the virus.
"With the suspension of all public gatherings still in force, and our schools closed, Government has taken the decision to extend further the closure of our borders for a month, effective 1am on Monday, 4th May, until Sunday, 31st May. We know that the overwhelming majority of positive cases came from travellers or contacts of travellers. So, we have no option but to keep our borders closed until we are confident that we have put in place measures to prevent travellers from importing the virus.
"These restrictions cannot and will not be a permanent feature of our lives, but they are, for now, essential to our survival. As I said last Sunday, I shall be outlining, shortly, the steps for, systematically, easing the restrictive measures to bring us back to normality", the President added.
Below are photos from the ceremony: