SPORTS
"I'm not IGP to arrest referee beaters" – GFA Boss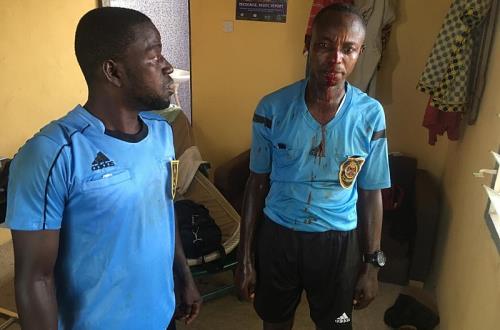 The President of the Ghana Football Association (GFA), Mr Kurt Okraku has defended the FA's inability to fight hooliganism in the country's football system.
In an interview with Joy Sports, Kurt Okraku condemned the acts, and said his office does not have any duty in arresting offenders in such practice.
"The clubs know what it is [they must do] to successfully manage games and what the needs are in terms of security. But, we cannot control the mindset of every individual in the world and most importantly, every individual who goes to our match centers to consume our domestic football. I wholeheartedly condemn hooliganism that has been noticed in some of the league centres. People who have misbehaved are going through and disciplinary committee and all that. Punishment is not enough to combat hooliganism," he told Gary Al-Smith.
"Sorry, I am not the Inspector General of Police. Sorry, I am not the police commander. One week ago, the police were attacked by supporters. I expect the police to act and that is why I am moving to the Brong Ahafo region to meet the Police High Command. We want to see them working. We will never accept hooliganism in our sport because it belongs in the stone age. We've done capacity buildings, had security briefings and trainings with all our stakeholders. On our part, we really do what we can, but there's more work to be done" he added.
His response comes after Irate fans of Division One League side, Mighty Royals last month mercilessly beat up Referee Niatire Suntuo Aziz and his assistants Suleman Mohammed, Yakubu Abdul Rahman as well as the fourth referee Hasim Yakubu.
Report then indicated that, fans of the home side beat up the match officials after the game had ended in a 0-0 draw at the Wamanafo Park in the clash between Mighty Royals and Tano Bofoakwa.
The aggrieved fans of Wamanfo Mighty Royals besieged the main gate to attack the referees for what the fans perceived to be unfair officiating against their club.