NEWS
Experts to investigate Aisha Huang's galamsey activities – Prosecutor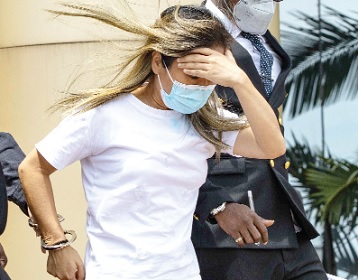 The government has set up an investigative team, made up of experts, to probe circumstances surrounding the illegal mining activities allegedly perpetrated by Chinese national En Huang, popularly known as Aisha Huang, and three others.
The Attorney-General is expected to also make inputs into the case to firm up the prosecution's case at the Circuit Court.
The prosecutor, Inspector Isaac Babaye, who made this known when the case came up for hearing yesterday, prayed the court for two more weeks to enable the prosecution to make progress in the case.
He told the court that the accused persons had multiple passports bearing different names and the investigation team was probing further.
Charges
In the dock with En Huang were Jong Li Hua, Huang Jei and Huiad Hiahu.
They are facing the charge of engaging in the sale of minerals without licence and mining without licence, and have all pleaded not guilty to the charges.
At the hearing yesterday, the court, presided over by Bright Acquah, gave the prosecution two weeks to file all necessary documents to commence the trial.
The suspects were subsequently remanded to reappear on October 27, 2022.
Facts
The facts before the Circuit Court are that Ms Huang was first arrested in December 2017 for a similar offence but managed to sneak out of the country to avoid prosecution.
According to the prosecution, early this year, Aisha sneaked back into the country after changing the details on her Chinese passport.
He said Ms Huang again resumed the small-scale mining activities without licence, and together with her accomplices, engaged in the purchase and sale of minerals in Accra without authority granted as required by the Minerals and Mining Act.
Inspector Babaye further said Ms Huang returned to China and changed her identity, only to come back to Ghana to commit the same crime for which she had escaped prosecution earlier.
The three others with her, according to the prosecution, sold mining equipment and dealt in gold in Accra, without a valid licence.
High Court charges
Meanwhile, on September 16, 2022, the Attorney-General and Minister of Justice, Godfred Yeboah Dame, filed fresh charges against Aisha Huang.
In the new charge sheet before the High Court, Ms Huang has been slapped with four counts of undertaking mining operation without a licence, facilitating the participation of persons engaged in a mining operation, illegal employment of foreign nationals and entering Ghana while prohibited from re-entry.
She has since pleaded not guilty to the four counts during a virtual court session which remanded her to reappear on October 12, 2022.