NEWS
Help influence national development – Former President Kufuor urges media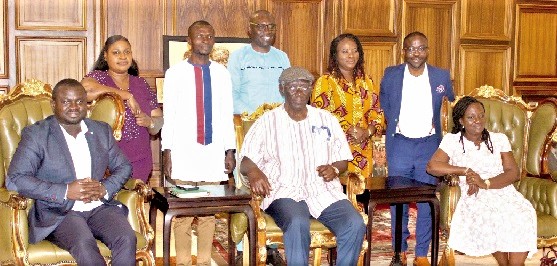 Media practitioners have been urged to help influence national development by ensuring a high sense of responsibility in their reportage.
Former President John Agyekum Kufuor, who made the call, said media practitioners could do this by making sure their stories were balanced, as they were the chief agencies in information dissemination.
"You must be responsible practically and ethically for how your association leads the media generally in doing its work for the good of society," he added.
According to the former President, governance was a difficult undertaking, especially at the current stage of development in the world of complexity, adding that the media could support the government in its effort to improve the well-being of the people.
Mr Kufuor made the call when the leadership of the Ghana Journalists Association (GJA) paid a courtesy call on him at his residence at Peduase, near Aburi in the Eastern Region.
Visit
The delegation was led by the President of the GJA, Albert Dwumfour, and included the Vice-President of the association, Linda Asante Agyei; the General Secretary, Kofi Yeboah, and the National Organising Secretary, Dominic Hlordzi.
The rest were the Public Affairs Officer of the GJA, Rebecca Ekpe; the National Treasurer, Audrey Dekalu, and the Chairman of the Greater Accra Chapter, Charles Benoni Okine.
The visit was to introduce the new GJA leadership to the former President, as well as discuss matters of mutual interest with him.
Mr Kufuor entreated the media to eschew sensationalism, which he said affected the image of the country and derailed national growth.
He commended the executive for their strides in ensuring press freedom and wished them well in their tenure.
Rationale
The GJA President said the visit was also to interact with the former President, as well as seek his blessings and guidance in their work.
"We are here to meet you as a patron, reiterate our commitment to you for your love for the media and also associate ourselves with you in your quest to ensure responsible media in the country," he said.
He expressed appreciation to the former President for his immense contribution to the growth of the media and the expansion of their frontiers while he was in office and in even in retirement.
Mr Dwumfour mentioned Mr Kufuor's effort in making defamation a civil case from what was formally a criminal one, the repeal of the criminal libel and sedition law, saying that had "massively contributed to the growth of the media and the enhancement of press freedom".
He also mentioned the donation of a five-acre land at a strategic location in Accra for the establishment of the GJA Secretariat.
Mr Dwumfour used the opportunity to formally invite the former President to the 26th Annual GJA Awards slated for November 12, this year.
The theme for the event is: 'Walking the path towards economic recovery — The role of the media".
Source: Graphic online