NEWS
Dr. Opuni challenges authority of Justice Honyenuga in COCOBOD case again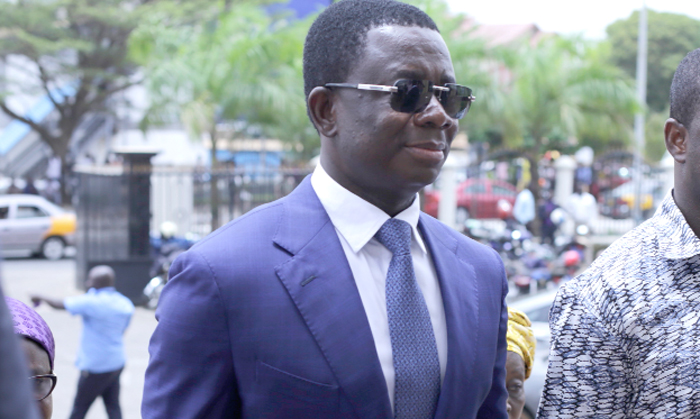 The prosecuted former COCOBOD Chief Executive, Dr. Stephen Kwabena Opuni, has challenged the authority of the trial Judge, Clemence Honyenuga, to hear the charges against him.
His Lordship Honyenuga was expected to have retired last September but had a six-month extension from the Chief Justice.
This extension by the Chief Justice, lawyers for Dr. Opuni argued, is unconstitutional and a usurpation of the powers of the President of the Republic.
They maintained that "the power to extend the tenure of a Supreme Court judge is not exercised by the Chief Justice, who is not the appointing authority."
"The only person who can grant an extension to the tenure of your lordship as contained in article 145(4) is the President and not the Chief Justice", Samuel Cudjoe argued.
Notwithstanding that the Chief Justice is the administrative head of the Judiciary, Mr Cudjoe submitted that the Chief Justice "cannot grant an extension to the tenure of a judge who has attained the mandatory constitutional retirement age."
This position was, however, sharply contested by the Director of Public Prosecutions (DPP), Yvonne Atakora Obuobisa, who described it as baseless in law.
"It is our case that the CJ has power under the 1992 Constitution to grant power to a Justice of the Superior Court to sit for a limited period of time", she submitted.
Relying on articles 139(c) and 145(2)(a) and (4), the DPP argued that the Chief Justice not only had the authority to appoint Judges to Courts but to also give such limited extension to Judges due for retirement to enable them to complete cases commenced under them before their retirement age.
"In very simple terms, this means that your lordship on attaining the age of 70 years may continue in office for a period not exceeding six (6) months in relation to the case of Republic v Stephen Opuni, Seidu Agongo and Agricult Ghana Ltd. that was commenced before you prior to your attainment of the age of 70."
The DPP thus submitted that the question of who has the authority to grant the extension had been clearly answered by the Constitutional provisions cited.
Therefore, "no ambiguity or confusion as to whether it is the President or the Chief Justice who grants an extension to a Judge previously determining a case to continue with that matter for a limited period" could be raised.
The High Court presided by His Lordship Clemence Honyenuga dismissed the application and adjourned the case to November 16, 2022, for continuation.
"The Chief Justice as the Administrative Head of the Judiciary has the power under the Constitution to grant an extension to a retiring Judge."
Source: citinewsroom