Showbiz
Davido Flies From Atlanta To Los Angeles Just For Lunch – Ghanaians Dare Loudmouth Medikal To Beat His Record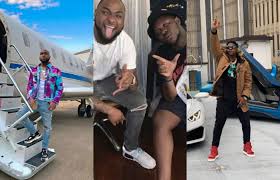 Nigerian singer Davido has been trending on social media for an extravagant act he pulled off in the United States of America.
The son of a billionaire took a flight from Atlanta-Georgia to Los Angeles-California just to have lunch and he documented his entire journey on his IG Story.
He shared photos and shot clips on board his private jet taking the over 5 hours journey to put food in his belly.
Davido's actions caught the attention of many in Ghana and even international media and some mischievous Twitter users are calling on the self-acclaimed rich musicians in Ghana to beat the record.
Medikal is one of the people tagged in this Twitter war as he's noted for calling himself Chairman and mentioning the many things that shows he is richer than most musicians in the country.
In that light, twitter has passed the ball to El Chairman to make Ghana proud. They called AMG rapper and loudmouth 'millionaire' Medikal to beat Davido's record if he is indeed as rich as he brags online.