Showbiz
2021 Gadangme Homecoming Launched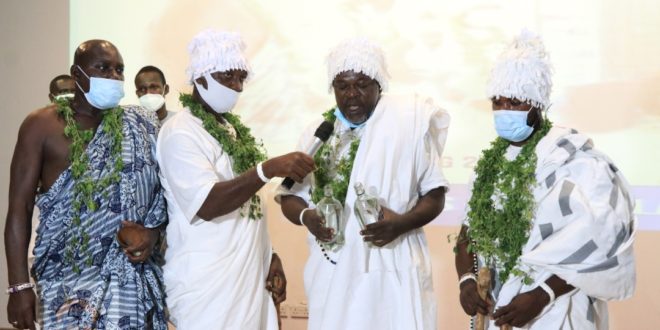 Gadangmes in the diaspora last week successfully launched Gadangme Homecoming at AMA head office.
Among the many personalities and dignities that graced the occasion were Traditional Leader from the Gadangme Region, Archbishop Torto, Hon. E T Mensah, Pastor Lamptey, Sultan Nii Nortey Caesar Queen Asabea Cropper as the face of the Gadangme homecoming 2021 among others.
Speaking during the launch, the organizers said, "The event comes at a time when the whole world is caught in the grips of the COVID pandemic and the related set of challenges on global health and economies. However, GaDangme Homecoming 2021 is a fulfilment of earlier pledges made to celebrate the people, foster unity for sustainable development, reclaim assets and restore our heritage and priced traditions while honouring illustrious leadership, including chiefs, opinion leaders and achievers in our communities."
They noted that, it was former American president, Barack Obama who said that, "The best way to not feel hopeless is to get up and do something. Do not wait for good things to happen to you. If you go out and make some good things happen, you will fill the world with hope, you will fill yourself with hope."
The GaDangme Homecoming (GDHC) is a global movement, comprising of all GaDangme associations both in the Diaspora and Ghana, aimed at protecting the heritage and people of the GaDangme at home and abroad.
The theme for this year's homecoming is: "Harnessing GaDangme Resources for Sustainable Development''
The GaDangme Homecoming envisions a GaDangme society with an all-inclusive, fair and equal society where GaDangmes can develop their full potential by harnessing the human capital and resources of GaDangme citizens across the world to collaborate, rebuild and develop our land.
To realize the stated vision, GaDangme Homecoming is utilizing emerging trends, underpinned by traditional values to achieve a positive change agenda for the GaDangme Region.