POLITICS
"You don't lead Parliament,"- Bagbin tells Kyei Mensah Bonsu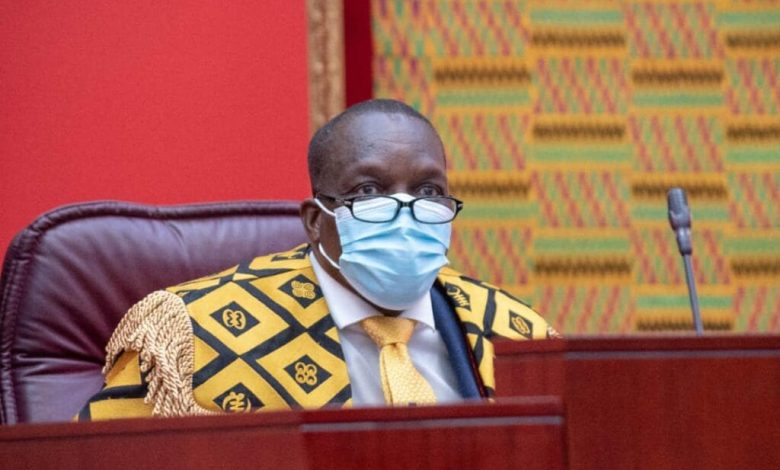 Speaker of Parliament, Alban Bagbin, on Tuesday had heated exchanges with his good friend and leader of the majority side Osei Kyei-Mensah-Bonsu over the formation of a committee to investigate two petitions before the House.
Bagbin had proposed a seven-member committee to consider petitions by Prince Kofi Amoabeng, former CEO of defunct UT Bank and Dr Kwabena Duffuor, owner of uniBank Ghana Limited.
The two have petitioned Parliament to investigate the conduct of the Bank of Ghana in the revocation of their banking licences. However, Kyei-Mensah-Bonsu challenged the decision of Bagbin, drawing the Speaker's attention to the fact that the matter is already in court.
Kyei-Mensah-Bonsu said, "There is no express provision. So that cannot be done, that's why I'm saying that I disagree with you…"
"You have made a statement to the effect that the petition must be referred to a committee to make some proposals, but perhaps we will leave it like that. But I disagree with the position that you have taken," he said.
Bagbin then overruled his objection, saying as Speaker it is within his right to direct what should be done as far as the petitions are concerned.
Exchanges
"You don't lead Parliament," Bagbin said.
"You lead the business of the House. You lead the majority and you lead government business. As to the role of Speaker you've not been there yet. When you get there you'll do so," Bagbin added.
The former MP for Nadowli-Kaleo then proceeded to question the authenticity of their friendship over the decades ever since he became Speaker.
"You've been my good friend from all these years, until I became Speaker. Everybody in Ghana was doubting whether indeed you were really my friend. I've received a lot of calls about us and I said you're my friend and you're still my friend. Please don't give credence to that," Bagbin told Kyei-Mensah-Bonsu.
The Suame MP then replied: "Mr Speaker, respectfully, I have not been your friend until you became the Speaker. You and I know that we are still friends but we agree to disagree…, Mr Speaker, Majority Leaders don't always act as leaders of the majority caucus and also when their party is in power as leaders of government business, but a majority leader is a leader of the House."
"But you are not the leader of the Speaker, you know the mood in which you disagree with me, is what is giving credence to whether you are still my friend.
"It looks like you are my former friend now, because I hear you always on air disagreeing with me and so vehement that people are doubting, is this really my friend, so I'm just drawing your attention, if you want to continue to be my friend then you know the proper thing to do," Bagbin retorted generating laughter in the House.
He continued: "You have to be my friend not me to be your friend, at least I have a position in Ghana, 'Number 3' what is your number?"
Kyei-Mensah-Bonsu said the 'Number 3' for the Speaker is not in government.
Bagbin stressed: "I didn't say in government but I said in Ghana. What about you, what is your number in Ghana?"