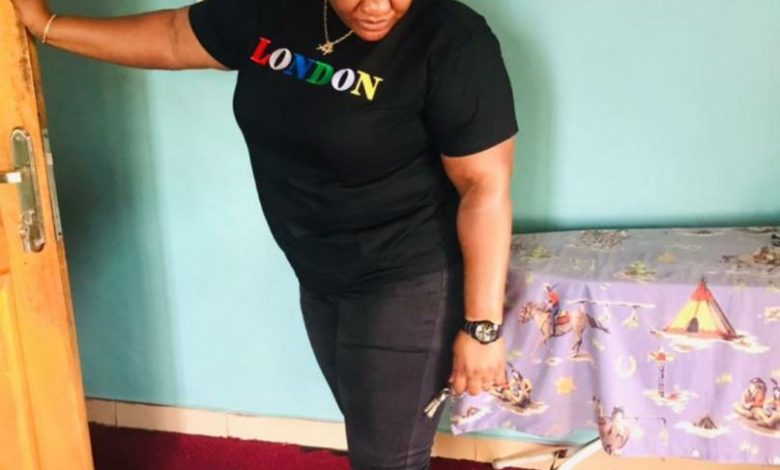 It has emerged that the woman  believed to be in her late 30's that was shot dead under bizarre circumstances in Kumasi is wife of aide to Dr KK Sarpong, the Chief Executive Office of Ghana National Petroleum Corporation (GNPC), Nana Prempeh.
The deceased, Benedicta Abena Pokua, was killed by unknown gunmen in Kumasi on Saturday in the presence of Nana Prempeh and police have commenced investigations into the incident.
The husband, who recently became headline news after he was seen in a viral video displaying some wads of American dollars and other jaw dropping affluence, has recounted an eye witness account of the circumstances under which the wife was killed.
"While on our way from Joefel Restaurant, my wife was driving my white Range Rover with a customized registration number PREMPEH 1- 21
"She was driving ahead of me while I was in a different car. All what I saw was someone had rushed her and opened gun fire at her. They shot multiple times and sped off", a sad sounding Nana Prempeh told Aduanaba Kofi Asante Ennin , host of Ghana Akoma on Akoma FM.
Incidentally, Benedicta's fiancee, Nana Prempeh, is a popular  New Patriotic Party (NPP) member  and known party activist in Kumasi.
Reports say the gunmen, who are still at large, fired at Benedicta at close range.
Surprisingly, the attackers, who wielded deadly guns, only shot at Benedicta and left Nana Prempeh unscathed.
Nana Prempeh was said to have rushed his lover to the Komfo Anokye Teaching Hospital for treatment.
Unfortunately, Benedicta, who was initially responding to t treatment, eventually gave up the ghost later on.
No arrests have been made yet as at Sunday when this story was filed.
Over the last couple of months, there have been rising reports of gunmen attacking innocent persons and robbing them of their properties and sometimes killing them.
Where and how such hoodlums conceal the guns and continue to work with them, evading arrest is a question for the gods and a vivid indicator of a failing security system that needs fixing with a sense of urgency.
It is suspected such guns are largely illegally imported while some are manufactured locally or are converted weapons.
The proliferation of such illegal weapons and arms in the system and the mindset of their owners is a clear recipe for anarchy
It is depressing that as a country, there is no sense of urgency in championing a concerted national effort to address the disturbing challenge.
Just before the 2020 general elections, some six months ago, gunmen ambushed a Member of Parliament in this country and shot him dead. We wailed, we buried him, life goes on.
In March this year, the Municipal Chief Executive (MCE) for Asokore Mampong Municipal Asembly (AMMA) would have been shot dead if he had refused to hand over his official vehicle to two men who ambushed him and demanded at gunpoint that he should hand over the vehicle, a Toyota Hilux with registration number GW 2473-16.
In November last year, just some three months back, there was a similar incident at Wa in the Upper West Region where the District Chief Executive (DCE) for Wa West, became an armed robbery victim.
Again, in May last year, some eight armed robbers shot and killed the official driver of the District Chief Executive of the Amansie South.
These high profile incidents are the ones that made the news headlines but there are several other incidents of gunmen attacks that have not generated much talk though they caused worse havocs