POLITICS
We will seek to subpoena Mahama to mount the witness box if – Oppong Nkrumah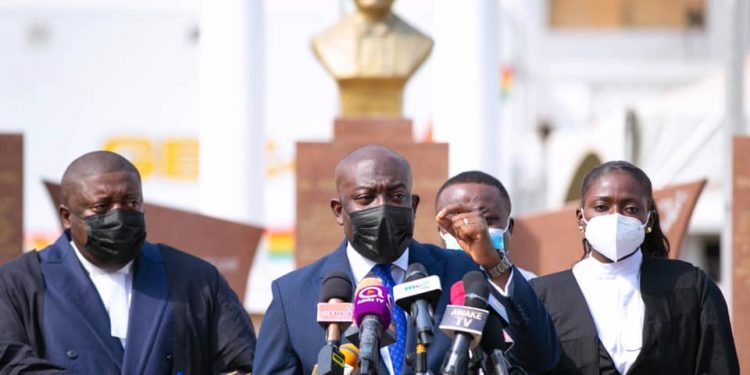 Kojo Oppong Nkrumah, spokesperson for the second respondent in the ongoing election petition has indicated that they will consider subpoenaing the petitioner, John Mahama to mount the witness box.
It follows an indication from the lawyers of the petitioner to subpoena the EC chairperson after the court ruled it cannot compel the EC chair to be cross-examined by the lawyers of the petitioner.
Speaking in a post-trial interview Oppong Nkrumah said they were convinced from the onset that the petitioner did not have a case.
"It is also becoming clear why we filed a submission of no case because on the face of the preliminary legal objection that this is not an election petition properly so-called, it was clear on the face of the petition and that is why we put in that application, perhaps if we had struggled to put in witnesses, we would be undermining that submission which is before the court to decide," Oppong Nkrumah said.
He added, "Indeed, I have heard conversations, I don't know if I have their permission to say this, I have heard conversation by some that if they elect to subpoena the Electoral Commission chairperson maybe we should also elect to subpoena the petitioner…"
Ruling to cross-examine EC chairperson
The Supreme Court on Thursday ( 11 February)  ruled that witnesses of the first and second respondents cannot be compelled to mount the witness box to testify in the ongoing 2020 election petition.
The decision by the Supreme Court follows oral arguments made by the lawyers for the first and second respondents that their clients cannot be compelled to testify.
"…Simply put, we are not convinced, and we will not yield to the invitation being extended to us by counsel for the petitioner to order the respondent to enter the witness box to be cross-examined. Accordingly, we hereby overrule the objection raised by the counsel for the petitioner against the decision of the respondents declining to adduce evidence in this petition," Chief Justice Annin Yeboah said.
It will be recalled that on Monday, the EC's lawyer Justin Amenuvor served notice that he will not be calling any witnesses because the petitioner, in the EC's view, has not put up any evidence that has been challenged or defended by the first respondent (the EC) in the case.