Editorial
TIME TO BITE THE BULLET AND MOVE FORWARD IN HOPE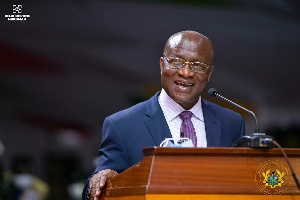 From all indications, the 2021 Budget is a hit – as long as we muster courage and ride the storms that afflicted all global economies last year.
This is because, at this point in our history, we certainly cannot afford to go back to mediocrity in the planning and execution of development projects, particularly when we have the opportunity to do so. And we cannot dither when, all over the world, the culture is how to beat the dire effects of COVID-19 into the future.
We believe that is the motive for designing the 2021 Budget which is aimed at running fast enough to recover lost ground in order not to be left out in the race to stay on course.
Battle cry
That COVID-19 left us a legacy of debt and the unfinished task is a fact that cannot be disputed. That we should sit down and do nothing about it and get stuck in the mud, however, should not be our lot as a serious nation and economy.
That is why we agree with the Finance Minister, Ken Ofori-Atta when he urged a battle cry for shared responsibilities between government and citizens in generating adequate revenue to help the economy continue to stay resilient and to facilitate completion of dormant and existing projects.
It makes sense, in our opinion, to point out that, because safety measures that were ingeniously put in place to manage and defeat the COVID-19 pandemic had a cost to it, it becomes imperative that citizens responsibly share the burden.
We must indeed admit that the credibility that came with that singular effort that was Ghana being acknowledged and lauded culminated in development partnerships that we would need into the future, regardless of which government wins the 2024 elections.
Fighting culture of abandoned projects
As the Budget Statement highlighted, a major item alongside other bold and ingenious initiatives is ensuring that abandoned projects, which the National Democratic Congress has made quite some capital about, are completed within the next four years.
Completing them would mean, for instance, that no government in 2025 will be saddled with substantial debt as had been the culture since 2001.
But it also means that the ruling administration's transformational projects shall effectively roll out because there would be enough revenue to do more including sustaining initiatives like the Free SHS Programme and the enhanced National Health Insurance Scheme in which both parties claim to have stakes.
The sheer weight of the burden
When you have in the pipeline 8,700 projects all of which have been targeted for completion, you don't go to be a bed, hoping that they would fall in place by some magic, unless we strain every nerve and sinew in productive activity.
As we would admit, that can only be done when citizens buy into the government's proposition to accept the COVID-19 Levy.
All over the world, it is the obligation on the part of responsible citizens to pay revenue that culminates in the lighting up of their landscape with infrastructure, including roads and highways; markets and schools; hospitals, and accommodation facilities, among other amenities and safety initiatives.
Magnanimity
Interestingly, since the NPP under Nana Addo Dankwa Akufo-Addo took power, cannot be said to have saddled citizens with unnecessary tax obligations. Indeed, what has prevailed under the last NPP administration was the government offering reliefs that would spur growth.
Additionally, that step is to encourage patriotic citizens to be part of the responsibility of sharing the burden of development with the government at the appropriate time.
That time, in our opinion, is now, after it has become evident that the government can be trusted because it has proven that the NPP under Nana Addo Dankwa Akufo-Addo is a better manager of our natural resources and heritage.
Widening revenue coverage
We believe it is in that vein that government is busy with its digitization programmes to enhance coverage in terms of revenue mobilization.
Unless there are other options that are outstanding and on other planets, we believe the only way out to beat the pandemic and its negative effects into the future is the course of action as highlighted in the 2021 Budget.
The Thunder, therefore, urges all citizens to buy into the government's agenda and contribute towards its implementation in our collective interests.
** The Thunder Gh News | News In Flash! here
Follow us on Twitter: @TheThunderGh
#TheThunderGhNews