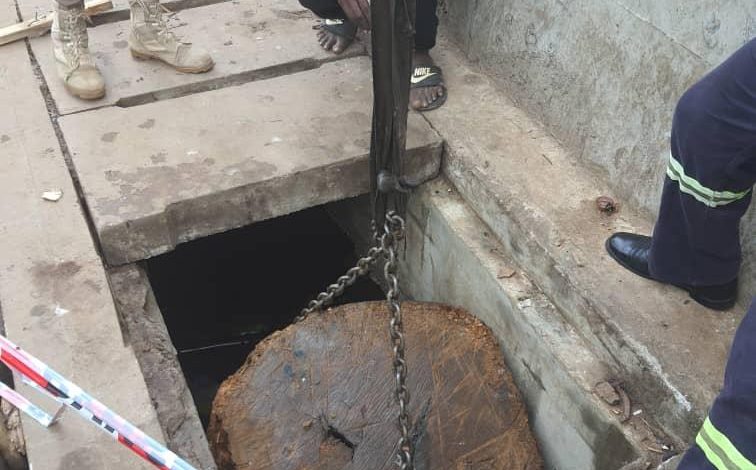 SEVERAL PIECES of timber logs in different sizes that have been kept in the drainage system of the Kejetia Market in Kumasi has been identified as the main cause of the flooding of the newly built market last week after two days of heavy rains.
The timber logs were said to have completely choked the underground drainage systems at the market, leading to the floods on Thursday.
The timber logs have since been removed from the underground drainage system in order to ensure the free flow of water.
The rainwater found its way into a number of shops around 5pm on Thursday when the traders were doing brisk business.
The floods reportedly destroyed valuable wares and products on display in the affected shops to the chagrin of the traders.
At a point, eye witnesses said the flood became scary, compelling shop owners and buyers to take to their heels to save their lives.
The city authorities conducted investigations to identify the cause of the floods and they realized that some logs in the drainage system caused the floods.
It is not yet established how the timber logs got into the drainage system.
Over the weekend, the city authorities engaged the services of some people, who entered the drains to remove the huge logs.
In a related flooding of market story, classfmonline.com reports that traders at the Asafo Market in the Kumasi Metropolis of the Ashanti Region yesterday, Monday, 28 June 2021, demonstrated over the perennial flooding situation at the market.
It said the market got flooded as a result of two heavy downpours experienced in the metropolis.
Four lives were lost as a result.
The aggrieved traders wore red armbands and closed their shops to demonstrate.
They told Class News' regional correspondent Elisha Adarkwah that their wares, worth thousands of Ghana cedis, were destroyed by the floodwaters in the two-day rains.
They accused a contractor, who the market has been awarded for reconstruction, of blocking waterways, leading to the flooding.
They said they have channeled their grievances to the necessary authorities but nothing has been done about it.
They, therefore, threatened not to pay tax to the Kumasi Metropolitan Assembly if nothing is done about the flood situation.