Editorial
Thank God our justices and chiefs are united against galamsey menace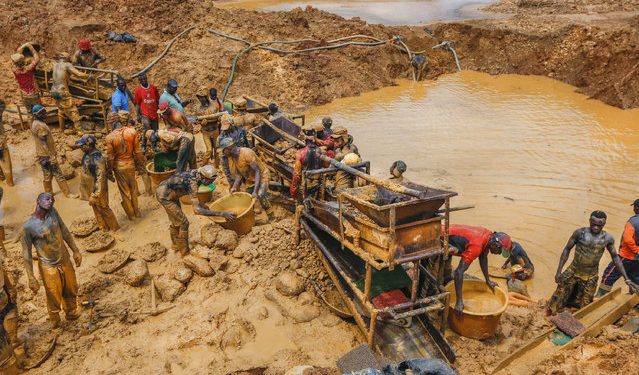 The Chief Justice has called for a stronger partnership between the Judiciary and the Ministry of Lands and Natural Resources to salvage the country from the negative impacts of illegal mining.
Justice Kwasi Anin-Yeboah noted that illegal mining has deprived the country of the needed benefits in mineral exploitation, with devastating impacts on land, water bodies and farmlands.
Justice Anin-Yeboah made the call during a training programme for 32 judges and magistrates drawn from Central, Ashanti, Western, Bono and other regions affected by illegal mining operations.
The training, according to the report, will equip the judges with the requisite skills and knowledge to interpret the more technical provisions of the laws guiding the minerals and mining sector.
Chiefs' angst with perpetrators
Our eminent chiefs have all spoken. From the north down through the middle belt into the Eastern and Western Regions, notable traditional rulers and major stakeholders have damned the rape on the part of youth in mining communities putting a pistol to our heads and holding us ransom.
The Asantehene, the Lepo Wura, the Okyenhene and several others are on record as having condemned the lingering act stridently, even to the point of blaming government for hijacking all political authority including what had held our communities together since the respective groupings settled in Ghana.
With civil society, the military and the police service, as well as our traditional authorities and justices, against the acts of insanity, we can rest assured that the only enemies will be the double-speaking politicians who must now show where they stand by their words and actions.
As the Chief Justice observed, the concerns the entire nation has about the menace of illegal mining are genuine. Indeed, "not only is it depriving the nation of the exploitation of its natural resources, but it is exacting an incalculable toll on our environment."
According to him, that is evident regarding the pictures and videos we see of polluted water bodies which images describe real disaster. We also agree that each time we watch the quality of the water coming through our taps, we should be human enough to feel what jeopardy we are putting our brothers and sisters who live along those rivers and rely directly on them.
Yes, we must think, too, of the farmers whose outputs have been affected; the parents who may give birth to children with various genetic challenges owing to the menace through pollution of the rivers serving as the only source of water for them in the affected areas as well as those using the water for agricultural purposes.
That's why we must say a big NO to the acts of madness ongoing in our communities and apply the laws to stop it.