BUSINESS NEWS
#SONA2021: Let's have an open conversation on galamsey – Nana Addo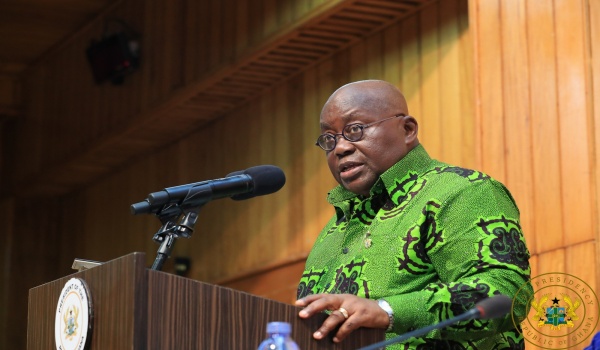 President Akufo-Addo appears to have softened his stance on frontally dealing with the phenomenon of illegal mining in the country calling for an open conversation on whether or not the activity should be allowed to continue.
Nana Akufo-Addo, in delivering the last State of the Nation address in his first term said the phenomenon of illegal mining has dire effects on the country's environment and water bodies but there is the need for non-partisan discussions on whether or not it should be permitted in the country.
"There is one subject…I believe we the people need to have an open conversation, and that is the phenomenon of galamsey. Should we allow or not allow galamsey," President Akufo-Addo said.
Illegal mining popularly referred to as 'galamsey' has over the past few years dominated national conversations following a major company by Citi FM about the devastating effect of the practice.
In 2017, Nana Akufo-Addo declared that he was prepared to put his presidency on the line in the fight against galamsey.
His declaration was amidst new measures such as the deployment of police and military personnel to arrest illegal miners across the country and the introduction of a community mining program aimed at regulating small-scale mining in communities in an environmentally sustainable manner.
Recently, there have been complaints that the water bodies that were regaining their natural state at the height of the fight against galamsey are becoming polluted again due to the increasing activities of illegal mining in various parts of the country.
President Akufo-Addo said the major challenge with the issue of illegal mining in Ghana is the use of technology which has worsened the effect on the country's environment.
"The illegal mining, that leads to the pollution of our water bodies and the devastation of our landscape. As I have said often, the almighty haven blessed us with considerable deposits of precious minerals there will always be mining in Ghana, indeed there has always been mining in Ghana. The problem we have is the use of modern technology that leads to the illegal mining menace posing serious dangers to our water bodies and the health of our environment. The pollution of our rivers and water bodies has been so acute on occasions that the Ghana Water Company Limited is unable to afford the distilling of water to make for safe drinking," Nana Akufo-Addo noted.
He further called on the country's leaders to apolitically discuss the issue of galamsey in an honest manner as a duty to the country's future generations.
"We have to talk about galamsey. We who are leaders owe it to the country to take the subject out of the party political area and have an honest conversation about this menace to our future," he added.