POLITICS
MONKEYS PLAY BY SIZES: FROM JOE BIDEN TO NANA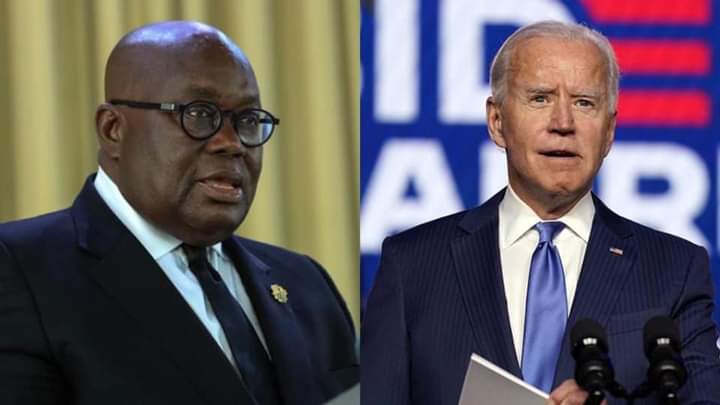 Ghana has, since Dr. Kwame Nkrumah, been the voice and image of Africa, not only in matters of development, industrialization, and international cooperation but also in diplomacy. Little wonder that an illustrious son of our soil in the person of Kofi Annan rose above several of his colleague top diplomats and contemporaries in becoming Chief of the United Nations and helping keep Ghana on the map.
Kofi Annan's achievements as UN Chief, like those of Nana Addo Dankwa Akufo-Addo, were undoubtedly remarkable, ranging from global peace initiatives to the creation of development goals for developing nations.
Nearly half a century on, Ghana stands on the horizons of hope in Africa, leading the continent not only in terms of food security and agriculture but also health and education as well as industrialization and job creation.
This is a far cry from what the New Patriotic Party under Nana Addo Dankwa Akufo-Addo inherited from the discredited, corrupt and incompetent John Mahama and his National Democratic Congress administration.
It comes as no surprise that the President-elect of the US, Joe Biden, has given assurance that he is committed to dialoguing with the President of Ghana in matters of international cooperation, but also in positively fighting challenges that confront both nations and their peoples.
As any student of international relations or politics would admit, development in any form today is impossible without partnerships. But such a level of partnerships, we must equally admit, are attracted only by the credibility of leadership – not political criminality and corrupt governance systems and practices as are being played out by the elite and lowly-placed hoodlums in our body politic.
The honor in the US pledging to work with Ghana comes at a time our dear nation is hit with an ELection Petition that is not only laughable in merit but calculated to discredit the image which Ghana is building steadily through hard work and selfless leadership.
Unfortunately, the NDC and John Mahama chose to color their constitutional right to go to court with a provocation of the security agencies and disruption of the public peace, with the NDC caucus in the new Parliament leading in the vagrant illegality, unconstitutionality, and barbarian tendencies.
Thankfully, the rewards that come from that cooperation has mutual benefits for all, including the hoodlums in the NDC – large and small – and those who prefer galamsey to Plant for Food and Jobs, industrialization, greener forests, and cleaner waters, Free SHS, NHIS, NABCO and hope for our next generations.
The Thunder is elated by that assurance and hopes that the NDC will live by the ruling of the Supreme Court in showing to the world that the spate of violent demonstrations which they carried out was a mistake they regret.