Showbiz
Security Man Quits Job To Further His Education, To Emotional Message To Female Boss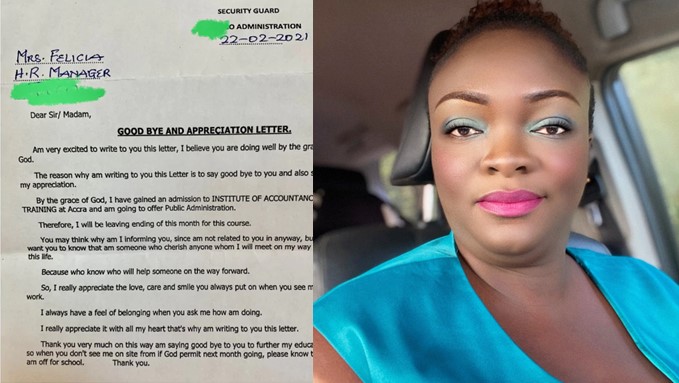 A security man seeking to further his education has penned an emotional message to his female boss to show her gratitude for all that she has done for him while working for her. 
The boss, an HR Professional identified as Felicia Opoku-Folitse took to Linkedln to share the personal letter her security man wrote to her as he quit the job. From the message, we got to know the man had gotten admission into the Institute of Accountancy training in Accra, Ghana, and to bid his female boss farewell, he wrote her a personal letter.
While sharing the content of the security's man message, Felicity wrote;
"Well, I'm a bit emotional and overwhelmed this morning by a personal letter I received from an outsourced Security Guard who usually is stationed in our Admin block during the day and felt like sharing. This is someone who isn't even a direct staff….
When I entered the block this morning, I gave him my usual greeting and smiled as well 😄. Then he quickly followed me and said: " Madam I have a letter for you". I asked who asked him to deliver it to me and he said it was from him to me. I was eager to read the letter so when I entered my office, I put my bag down and quickly opened the letter to read its content.
Reading the letter made me emotional and I instantly sat down and started to reflect on a lot of things. One thing that kept resonating is to treat people with respect irrespective of their position/rank in life.
Be nice to people and smile always as it cost nothing. All someone may need from you today is a simple greeting or a smile to lift up their spirit 😃. Be nice to people and spread happiness. Have a blessed week ahead !"