AFRICA
Rival Groups Clash In Somali Capital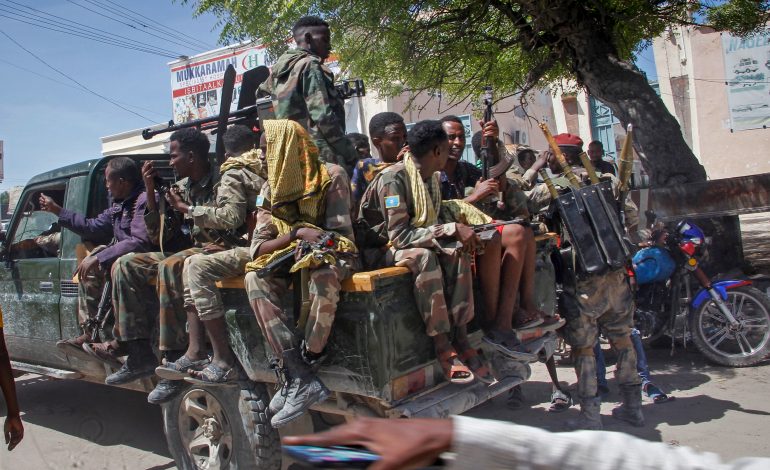 Gunfire erupted in Somalia's capital on Sunday between security forces loyal to the government and others angry at the country's leader as tensions spiked over President Mohamed Abdullahi Mohamed's extended stay in power.
The gunfire heard across much of the city highlighted earlier warnings that the election standoff could increase instability in the Horn of Africa nation. An estimated hundreds of mutinous soldiers, still in uniform, took up key positions in northern Mogadishu as some residents hid.
Somalia's homeland security minister, Hassan Hundubey Jimale, expressed condolences to all victims but did not say how many people had been killed or wounded. He accused "some people who are not interested in the security of their people" of launching an attack in Mogadishu and said security forces had repulsed them.
The president signed a law in mid-April extending his mandate for two years, stoking opposition inside Somalia and putting him on a collision course with Western and other donors opposed to the move.
Protesters demonstrate against Somalia's President Mohamed Abdullahi Mohamed in Mogadishu [Feisal Omar/Reuters]
Somalia, which plunged into war and chaos in 1991, has been struggling to re-establish the authority of central government and rebuild the nation, with international help. The failure to hold elections that were due in February sparked a new crisis.
"There is gunfire between pro-opposition military and government forces at Fagah Junction," Halima Osman, a resident of Fagah in Mogadishu, told Reuters news agency.
Former Somali president Hassan Sheikh Mohamud in a tweet alleged that forces loyal to the president attacked his house on Sunday, adding that: "I've warned and am now repeating how dangerous it is to politicise security. (Mohamed) will shoulder the responsibility of whatever happens as a result of this."
The internal security minister, Hassan Hundubey Jimale, denied the former president's claim and blamed the attack on "armed militias". Hassan said government forces responded to the attack and brought it to an end.
Al Jazeera's Catherine Soi, reporting from Nairobi in neighbouring Kenya, said security forces loyal to President Mohamed have reportedly exchanged fire with soldiers who oppose the extension of his term.
"People are very worried about the security situation. Especially now with what appears to be the involvement of the military taking sides," Soi said.
"We have seen movements of troops in Mogadishu starting last night. The troops were called by their commander from the frontline in Hirshabelle region. The commander is opposed to the extension of the president's term. He has given the president an ultimatum of 24 hours to step down," Soi added. Source: Aljazeera