POLITICS
Remembering Ferdinand Ayim …15 Years On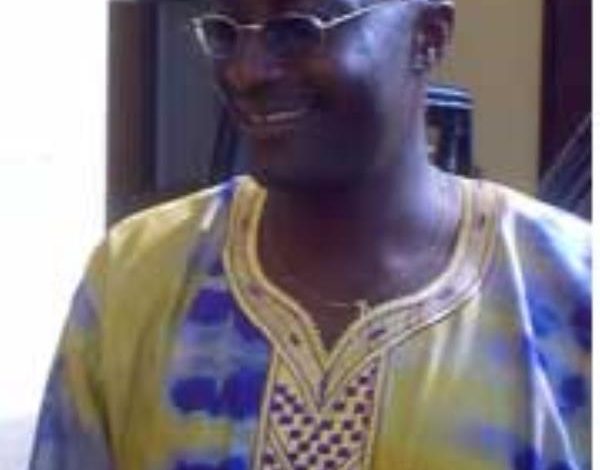 It was around Easter, precisely on April 7, 2006, when it was reported that Ferdinand Ayim, the special assistant to the then Minister of Tourism, had died through a tragic road accident while on an official assignment for Ghana and was on his way to the Eastern Region to supervise preparations for the Easter paragliding festival in the Kwahu mountains, a government initiative to boost the country's tourism drive.
15 years on, the pain of his demise still hurts very badly in the souls and hearts of all who knew him, especially persons who had the chance to work with him at any level.
Ferdinand was an exceptionally affable and hardworking person who was the special assistant to Jake Obetsebi Lamptey, (now also of blessed memory) when he was at the Information and Presidential Affairs and Tourism ministries.
Ferdinand Ayim, during the early days of the John Kufuor government, worked at the Ministry of Media Relations. He was a professionally trained journalist who worked at The Statesman newspaper. He left behind a wife and four children.
The Thunder newspaper remembers Mr. Ayim, especially in this Easter season and reproduces unedited, a tribute authored in his honour by Gabby Asare Otchere-Darko in 2006. Gabby was then Editor of The Statesman.
Thanks Freddie
A Short Tribute by Gabby Asare Otchere-Darko
Just as I was about to set pen on paper, I dialed a number I'm used to dialing or receiving daily call from: 024-4331223.
I dialed the name: Freddie. And oddly enough the message said: "The Onetouch number you have called has not responded, please try later". I heard the same Onetouch message when I dialed the same Areeba number on Thursday after 11pm, around the time that a Nissan Terrano had a head-on collision with the petrol tanker near Osino, AkyemAbuakwa.
It was as if the death of Ferdinand Ayim had sent even our mobile phone companies into a state of confusion.
Samuel Johnson said, Don't think of retiring from the world until the world will be sorry that you retire.
Ghanaians may have great respect for the dead to speak no evil of, but the overwhelming exhibition of pure grief by the nation, especially in Kumasi and Accra, was a mark of a patriotic life appreciated.
Surely, the grave is too fine and private place for a revered public figure like Freddie, who dedicated his life to service for all. His death is a loss to the Odehyia Akosua Hyia family, to the Ofori Panin fie, to Okyeman, to the New Patriotic Party, to the Government and, most of all, to Ghana.
Whom our ancestors loves dies young, that may be the case, still his early departure from us shows there can be cruelty in fate.
Freddie embodied in full the energy, zeal and dynamism of the model young that Ghana needed yesterday, that Ghana needs today; that Ghana shall need when he is buried. He was fitter to invent than to judge, he was fitter for execution than for counsel; and fitter for new prospects than for settled business. And in Jake Obetsebi Lamptey, he had a boss who allowed him to flourish. Freddie's contribution to the NPP campaign in 2000 is known but has never been told.
Since 2001, he slotted into government like fufu down his own throat. The People's Assembly for President Kufuor was his concept. I remember the cerebral fight I had with him over the use of the term 'People's'. I thought it smacked socialist. He thought it was populist and direct enough to sell the message; and how right he was!
He was the Information Minister Ghana never had. Calm, intelligent, astute, trustworthy and eloquent. He spoke with authority yet without a trace of arrogance. It was not for nothing that the text messages from Radio Gold and all the other stations sympathized with a man who was clearly on one side of the tensely divided political landscape of Ghana.
It was not for nothing that when he threatened to stand for the position of NPP General Secretary, he enjoyed the unsolicited support from Ken Kurachi's Searchlight and Kwesi Pratt's Insight.
When my mother brought me from Europe as a baby, Freddie was the little bigger brother I had. Except of course, unlike him I did not have the privilege of being brought up for long at the Ofori Panin fie under Nana Ofori-Atta II. That may explain why with royal finesse, him and I can say the same thing but his would not trigger a violent reaction.
Freddie's death only confirms the wise words of Job 32:9, Great men are not always wise.
On Thursday, he had complained to his boss, Jake, that a front wheel of his Nissan 4WD was wobbling.
Jake advised his Special Assistant to see Mr. Atiemo, the Castle's Chief Director, since the old VW Passats that the Minister used in the past were available. Freddie went to the Castle and saw Mr. Atiemo.
From there he went to the Blue Gate to congratulate his friend, Francis Poku, upon the latter's appointment as Minister of National Security. He was the last person to leave my office, recalls Mr. Poku.
Freddie had a scheduled official programme at Kwahu the next day. Against the tired advice of some of us, he decided to travel at night. He left Accra with Fati, a young lady near their house, to whom Freddie and his wife had served effectively as foster parents in the last five years or so.
As if in an untimely hurry to meet his maker, Freddie got home from work at around 8pm, quickly took off his cufflinks, threw them along with his shirt uncharacteristically on the floor, and drove off.
But, as has been his specialty, he stopped off at Kyebi, his hometown, and told a young man, Kwame who'd been asking for a job, that he'd found him one in Accra. Not sure he would return from Kwahu through Kyebi to Accra, Freddie told Kwame to join him to Kwahu in that Terrano with a wobbly tyre.
As far as Jake was concerned Freddie was travelling in the morning in a Ford vehicle that was to be available for him. That Terrano was a death trap. In 2005, Freddie was travelling in it from Bimbilla to Accra after an official duty there. The vehicle was then being driven by his official driver Ansah Sasraku. Also in the car with them was Freddie's 20-year-old daughter Freda.
The driver attempted to overtake a long vehicle but mistimed the length and hit the front of the truck with his back. The Terrano somersaulted about five times. They all escaped with minor cuts.
But Thursday's accident with Freddie behind the driver's seat was most bizarre. The road was long, straight, fresh and open. Yet Freddie managed to run into an incoming vehicle when he attempted to overtake a third vehicle.
So bizarre is the collision that there is a growing theory that Freddie suffered cardiac arrest at the time. Six weeks ago he had a similar arrest and was rushed to Holy Trinity Clinic. As if he was having premonitions, Freddie told my mother after he gained consciousness that he had been attacked by four people, one of whom shot him.
The last few days before his death he spoke of fierce battles with lions. If he didn't suffer a sudden heart condition, why then would he have driven head-on at night into a tanker with big yellow flashlights on a straight and wide road? Freddie has simply gone before us along the road which all must travel. Yet, he didn't need to overtake to get there; to make us lament by his passing. There's more to life than increasing its speed, Freddie.
A man so talented, young and full of life and love has been crushed out of existence. Age, certainly, had no intention to weary him, nor the years condemn. This is because Freddie poured out the foamy sweet palm wine of youth and shared it all without seeking for a thank you.
He did not miss the years of work and joy despite dying young. Instead, he skipped that unhoped-for serenity that men call ageing. He lived long enough to enjoy life and made much more than average contribution, nonetheless, not long enough to weigh his remaining years down, remembering his mistakes and how he could have done better. He loved life and hence did not squander time.
Until 2001, Freddie as Chief Correspondent and News Editor of The Statesman made this paper what it was before.
He and Nana Addo persuaded me to come down from London to continue. The chief glory of Ghana's nascent democracy in the 1990s arose from the pen of writers like Ferdinand Ayim or Fredua Agyemang, his other name.
Freddie, the man who could miss his connecting flight at Gatwick from Accra to Washington, just because he wanted to eat fufu in Miheham, Surrey, was a character who pursued every endeavor with relentless passion.
A master organizer, the man who has turned the Kwahu escarpment into a paragliders Paradise. The flower that smiled yesterday is today broken and dead.
The man who educated the whole country about the solar eclipse has himself seen his life eclipsed. Who would believe he achieved all the success about the eclipse with a total government budget of 10 million. Standstill, you ever moving spheres of heaven, that time may cease, and midnight never come.
Thank you, my brother.