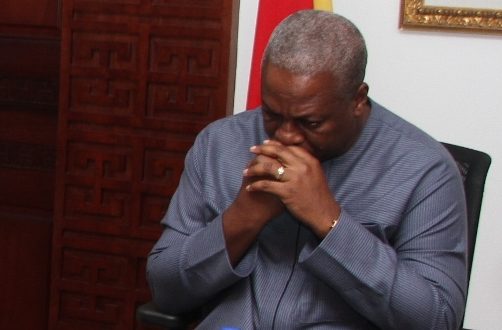 Since the Supreme Court unanimously ruled that John Mahama's 2021 Election Petition lacked merit and that his alleged claim about irregularities merited a rerun, responses largely from the defeated candidate and his corners have been loose cannons.
From their communications department and lawyers down to Mahama's Barking Dogs, it has been chaos and chaos.
Mahama himself is still baying for the blood of Jean Mensah as if he would need a Jean Mensha ouster to win Election 2024.
While he may have the right to go to court, that decision, it is becoming clear, was ill-motivated as he kept referring to ordinary Ghanaians as if the over 500,000 who voted for Nana Addo Dankwa Akufo-Addo are not Ghanaians.
Naïveté
Mahama is failing to be realistic and passes to some of us as a pampered child who had been having his way in life.
We are, however, not surprised at his attitude and reaction to the ruling and attack on the justices who he sought to set in a bad light in his desperation to look credible in the eyes of the National Democratic Congress into 2024.
But how naïve he and his hangers-on are had also been evidenced in how his noisy communicator could also attack the ruling and censure NDC MPs for betraying the party in an orchestrated strategy to fight all the arms of government in winning the flag bearer and ultimately the Presidency in 2024.
Hope
Thankfully, we find some ray of hope among some of the NDC MPs who, though they engaged in some posturing during the vetting of nominees, wised up during the ultimate voting on the floors of Parliament, to endorse the President's nominees in line with practice in the Houser.
We are also enthused that NDC MPs who are being attacked by Mahama's boys are fighting back –after sarcastically describing the just-ended Election Petition processes as Supreme Concert.
That offers some hope for a party that has quite an array of moderates who deserve a slot as flag bearer and even the ultimate – if the NDC puts its act together and stopped jesting.
As far as we are concerned, Mahama needs to apologize to the nation for sending us a wild goose chase. More importantly, however, he must also apologize for sending hoodlums to the precincts of the Electoral Commission to create chaos in his name – when results were yet to be declared.
If his fears were that more credible NDC leaders would contest him if he didn't put up that concert, he must be deceiving himself because we assure him that the Kwesi Botchweys and Spio-Garbrahs are still around to express interest in the position which he is trying to make a fetish of. He must read Kwesi Pratt's lips on the matter.
We would, however, welcome him as he joins the queue again and add that he must remember that, by the constitution of the NDC, it is the party chair and scribe who are now the capos – until a flag bearer is elected.
** The Thunder Gh News | News In Flash! here
Follow us on Twitter: @TheThunderGh
#TheThunderGhNews