POLITICS
Let's work with a sense of urgency to guarantee economic security and prosperity – Akufo-Addo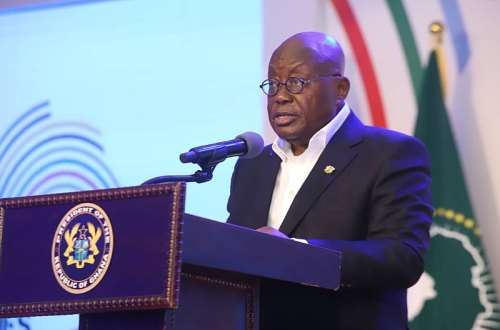 President Nana Addo Dankwa Akufo-Addo has urged countries on the African continent to work with a sense of urgency to guarantee economic security and prosperity for the citizens.
He thus called on African political and business leaders, as well as other strategic stakeholders to harness the opportunity presented by the African Continental Free Trade Area (AfCFTA) agreement to boost intra-African trade.
Closing the three-day maiden Africa Prosperity Dialogue series at the Peduase Lodge in the Eastern region on Saturday, President Akufo-Addo said the collective desire to transform the African continent necessitated "quick wins as well as concentrated focus" on the steps towards the prosperity of Africa.
"We in Africa must with a sense of urgency work together to guarantee the economic security and secure the prosperity of our peoples.
"To accomplish this shared objective, African political and business leaders, as well as other strategic stakeholders should use the opportunities presented by the AfCFTA agreement to boost intra-African trade in order to enhance the productive capacity and strengthen its resilience to external shocks," he said.
Dubbed the Kwahu Summit, the first of the annual dialogues, brought together Africa's political and business leaders to discuss intra-Africa trade, with a focus on the Africa Continental Free Trade Area (AfCFTA).
The series, an initiative of the Africa Prosperity Network (APN), was on the theme: "AfCFTA: From Ambition to Action, Delivering Prosperity through Continental Trade".
The summit deliberated towards building a strong and effective single market of Africa's 1.3 billion people to help create more opportunities for its citizens and build a more prosperous Africa.
With the AfCFTA targeting the elimination of tariffs on 97 per cent of goods traded within the African continent, President Akufo-Addo noted that the offering presented a significant opportunity for businesses to set up and expand in Africa.
"While we recognize the enormous challenges we may face, it is the smart actions that we take, the investments we make in our people, and the speed and effectiveness in implementing the common African market that will guarantee that the 1.3 billion people who call this continent home can enjoy a prosperous and fulfilling life," he stressed.
The President noted however that there was a great deal to be done to realise the full benefits of intra-African trade.
Africa, he told the gathering, needed to invest in productive capacity and physical infrastructure.
The continent ought to improve its business and investment climate and look to value addition and promotion of economics of scale. It should scale up efforts to mobilise domestic resources to support its development agenda, including the productive sectors.
Source: gna