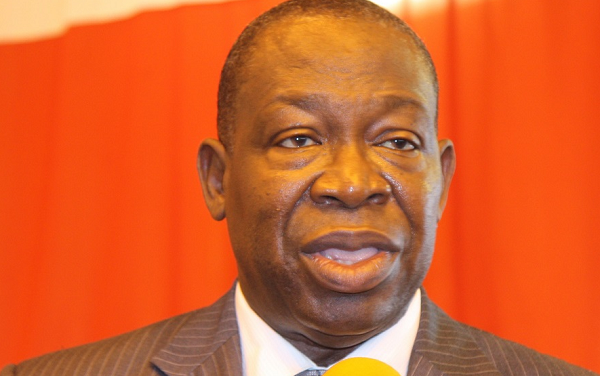 Counsel for respondents, Lawyer Amenuvor, drilling Rojo Mettle-Nunoo at the 11th sitting of the 2020 Election Petition, has cited Rojo for possessing a typical NDC temperament of posturing during engagements with the Electoral Commission.
Rojo chokes over pink sheet evidence
Rojo cites the EC as messing the 2020 declaration process by her declaration of what he described as different results. Rojo, though, failed to put numbers to his statements.
Lawyer Akoto Ampaw cautions Rojo against running around and making commentaries, instead of answering his questions in a Yes and No fashion.
Rojo replies that he has a right to explain issues
Lawyer AMWYER AMPAW ASKS ROJO IF IT IS NOT TRUE THAT THE NDC Ampah then asks Rojo to affirm that the National Democratic Court went to court because of pressure from civil society actors and not because they have assembled any cogent evidence.
Rojo denies knowledge about that
Ampaw again asks Rojo to confirm that the NDC rejoiced over their gains in the Ashanti region, though Rojo failed to sign documents from that region.
But Rojo says he is not aware that the leadership, including Betty-Mould-Iddrisu, joined in the celebration of the Ashanti region results.
Ampaw also asked Rojo to confirm his health status, but Law Lords disagree to question because of his oath to the court and his condition, while Ampaw persisted that his intention was to expose Rojo's credibility.
Cross-examining witness Witness 3, Ampaw suggests that the total amount of numbers Rojo said amounted to irregularities could only amount to some 500.
Rojo denies, saying no one has ideas where the figures came from. Yet, he agrees to figures which he has signed, while he again fails to put figures to evidence and show how that culminates in victory for Mahama in the case.
Justin Amenuvor, counsel for respondents says respondents in the case are not ready to bring in witnesses because the law does not require them to.
Tsatsu declines, saying the decision on the part of the respondents not in consonance with the existing regulations.
He insists that the NPP bring its pink sheets for audit, though Petitioner and Witnesses hadn't since the proceedings showed it has alternative data on the figures which defeat the case of the respondents.
Lawyers for Respondents and those for Witnesses are required to begin submissions on the matter tomorrow.
** The Thunder Gh News | News In Flash! here
Follow us on Twitter: @TheThunderGh
#TheThunderGhNews