Showbiz
'He Is Just A Clout Chaser Riding On My Name For Fame' – Kuami Eugene Replies Mr. Drew for Calling him A Master in Song Theft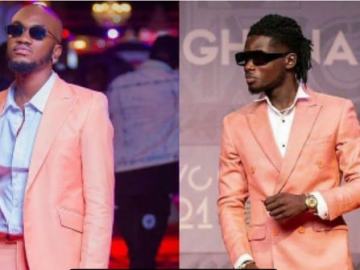 Kuami Eugene has reacted to Mr. Drew calling him a senior and master when it comes stealing songs.
Eugene has a reputation of sampling or picking inspiration from other artist to write his songs.
Most of his hit songs have elements of other famous songs in it.
Mr. Drew amplified the obvious when he granted an Interview with Abeiku Santana and Kuami Eugene has a word for him.
Earlier today, Kuami Eugene was in the studio of Hitz FM to promote another stolen song and he was asked to address what Mr. Drew said about him.
Kuami Eugene described Mr. Drew as a clout Chaser who wants to ride on the Eugene brand to promote himself.
He said he was not going to give Mr. Drew the attention he needs but he can say whatever he wants about the Eugene brand.
I do not know what @mrdrewofficial wants from me. I think maybe he wants my attention and now he has gotten to it. He's new. He will get there — He should have fun. – @kuamieugene #DaybreakHitz pic.twitter.com/8lb0EMgjlk

— Hitz 103.9 FM (@Hitz1039FM) April 30, 2021
In the same interview, Kuami Eugene was asked if he seeks clearance before sampling a popular gospel song in his latest song "Dollar On You" but he refused to answer the host.
.@kharyne_yalley: It appears you sampled some gospel songs in "Dollar On You"— Did you seek for clearance?@KuamiEugene: Pardon?

Kharyne: Did you seek for clearance?

Kuami: That's a backdoor conversation.#DollarOnYou is out now. #DaybreakHitz pic.twitter.com/wxrSOYt7rv

— Hitz 103.9 FM (@Hitz1039FM) April 30, 2021