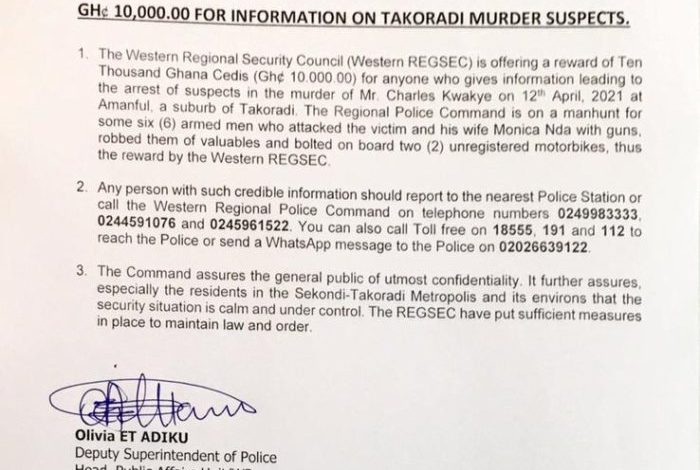 The Western Regional Police Security Council (REGSEC) has placed a bounty of ¢10,000 on gunmen who attacked and killed Charles Kwakye at Amanful, a suburb of Takoradi in the Western Region.
The Council said although it is on a manhunt for the suspects, it called on the public to offer information on the whereabouts of the culprits to receive the aforementioned reward.
The police on Tuesday confirmed that the male victim who was shot in a robbery incident at Amanful, a suburb of Takoradi in the Western Region has died.
The deceased, Charles Kwakye, 61, was pronounced dead shortly after his arrival at the Takoradi Government Hospital following the attack.
The deceased together with his wife visiting from Switzerland were accosted and attacked by six armed men on motorbikes when they were in their car at Amanful where they had gone to purchase some building materials on Monday.
According to the police, there was a struggle between the 61-year-old victim and one of the robbers when he tried to snatch the travelling bag containing cash the sum of 6,000 CFA, €50, SFr80 and ¢12,700.
The robber, therefore, shot the victim at the right chest and bolted with the bag and its contents.
The police say they need the help of the general public to apprehend the culprits.
They are, therefore, pleading with "Any person with such credible information should report to the nearest Police Station or call the Western Regional Police Command on telephone numbers 0249983333, 0244591076 and 0245961522.
"You can also call Toll free on 18555, 191 and 112 to reach the police or send a Whatsapp message to the Police on 0202663122," the statement released by Police indicated.
The Command also assured the public of confidentiality. – myjoyonline.com