NEWS
Ghana's COVID-19 death toll now 691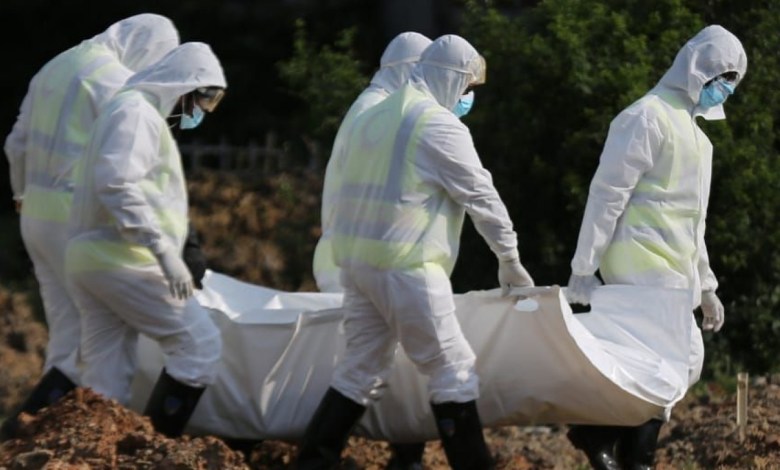 Ghana's COVID-19 death toll stands at 691 after six more fatalities were confirmed, according to the Ghana Health Service (GHS).
The country's active cases have witnessed a sharp decline from 3,908 to 3,673 after 223 new coronavirus cases were confirmed at the laboratories.
As of 11 March 2021, the GHS reports that the country's total confirmed cases increased to 87, 985 out of which 83, 621 have recovered.
So far, 48  persons are in severe condition while 19 remain critical, according to GHS. Cases detected at the Kotoka International Airport (KIA) are 1,269 with 1,149  recoveries.
Breakdown of regional cases: 
Greater Accra Region – 49,031
Ashanti Region – 15,037
Western Region – 5,495
Eastern Region – 4,003
Central Region – 3,157
Volta Region – 2,179
Northern Region – 1,506
Bono East Region – 1,297
Upper East Region – 1,277
Bono Region – 1,135
Western North Region – 834
Ahafo Region – 679
Upper West Region – 444
Oti Region – 360
North East Region – 185
Savannah Region – 97
Africa's COVID-19 cases to top four million
Meanwhile, Africa is poised to surpass four million COVID-19 infections since the continent's first confirmed case in February 2020.
The year-long battle against the virus, which has also claimed over 106, 000 lives, is now receiving a crucial boost with the arrival of vaccines through the COVAX Facility – a multi-partner vaccine procurement platform.
Following a second wave which peaked at much higher numbers than Africa's first surge, new case numbers declined for five weeks and then plateaued during the past three weeks at around 70 000 cases per week.
In the last week, there has been a slight uptick in new cases and an upward trend in 12 countries, including in Cote d'Ivoire, Ethiopia, and Cameroon.
While deaths reported have dropped by more than 50% over the past 28 days compared with the previous 28 days, the case fatality ratio or the proportion of deaths among confirmed cases is at 3.6% for the past 28 days. This is higher than the global average.
With COVID-19 vaccine deliveries picking up speed, the response to the pandemic is getting a much-awaited boost.
More than 14.6 million vaccine doses have been delivered to 22 African countries since 24 February through COVAX, an effort co-led by the Coalition for Epidemic Preparedness Innovations (CEPI), Gavi, the Vaccine Alliance, and the World Health Organization (WHO) in partnership with UNICEF.
Ten countries have started vaccination using COVAX-funded vaccines, while another 10 began with vaccines procured outside the COVAX Facility – either bilaterally or through donations. More than 518 000 doses of COVAX-supplied vaccines have been administered.