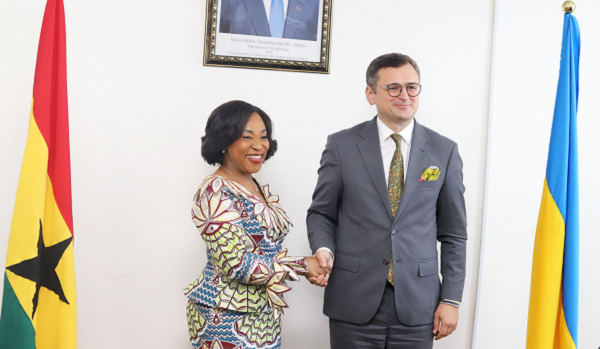 The Ghana National Chamber of Commerce and Industry (GNCCI) and the Council of Exporters and Investors under the Ministry of Foreign Affairs of Ukraine, have signed a memoranda of understanding (MoU) to boost trade and investment relations between the two countries.
The signing of the MoU was done during the opening of a business forum between Ghana and Ukraine in Accra and while the President of the GNCCI, Clement Osei-Amoako, signed the MoU on behalf of Ghana that of Ukraine was initialled by the Minister of Foreign Affairs of Ukraine, Dmytro Kuleba.
This was after Mr Kuleba had led a high-powered official and business delegation from Ukraine to have bilateral talks with the Minister of Foreign Affairs and Regional Integration, Shirley Ayorkor Botchwey.
The visit
Mr Kuleba was in the country to deliver a special message from the Ukrainian President, Volodymyr Zelenskyy, to the President, Nana Addo Danquah Akufo-Addo.
He is on a 10-day African tour and had already been to Senegal and Cote d'Ivoire. From Ghana, he was expected to visit East Africa where his first stop would be Kenya.
The Ukrainian delegation included the Ambassador of Ukraine to Tunisia accredited to Ghana, Volodymyr Khomanets; Head of the office of the Ministry of Foreign Affairs of Ukraine, Andrii Yanevskyi; Special Representative of Ukraine for the Middle East and Africa, Maksym Subkh, and the Spokesman for the Foreign Affairs of Ukraine, Oleh Nikolenko.
Business forum
Opening the business forum, Ms Botchwey said although the relations between Ghana and Ukraine had seen mutual exchanges, it remained much more on political basis and needed to be expanded further into equally important areas.
She, therefore, expressed the hope that the business forum would provide the needed platform for enhancing trade and investment between them.
"It is my fervent hope that in spite of the current crisis of post-COVID-19 and war in Ukraine, this visit will rekindle economic cooperation between Ghana and Ukraine for our mutual benefit," she said.
She said Ghana remained one of the most attractive business destinations on the continent for foreign direct investment and that the commencement of trading activities under the AfCFTA was expected to boost economic growth on the continent with Ghana being the access point of a population of over 1.3 billion.
For his part, Mr Kuleba described the political bond between both countries as strong, reliable and unbreakable .
He gave an assurance that they would structure themselves to ensure that new businesses would enjoy maximum support from both governments.
Source: Graphic online