POLITICS
Energy Minister leads his Ministry to mark Green Ghana Day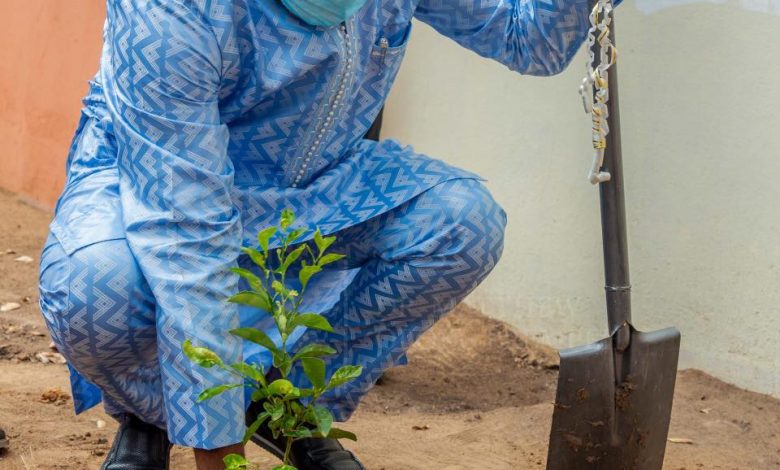 To mark the ever first 'Green Ghana Day', an initiative announced by the Forestry Commission to plant some five million trees across the country, the Minister responsible for Energy, Dr. Matthew Opoku Prempeh, led officials of the Ministry in a tree-planting exercise on the Ministry's premises.
The Ministry received a number of coconut, lemon, avocado, cashew and orange seedlings from the Forestry Commission to enable us contribute to the exercise which fell on Friday June 11.
"Trees are an important aspect of our environment and contribute significantly to its sustainability. I therefore encourage all Ghanaians to take part in this wonderful exercise and help make our country a better place to live", Dr. Opoku Prempeh said.
It is a day the Presidency has placed priority on and the President, Nana Akufo-Addo himself has suggested it should be institutionalized as an annual event.
Speaking at a ceremony to mark the day at the Jubilee House, the official Seat of Government, Nana Akufo-Addo said "Government is determined to restore the lost forest cover of our country. Indeed, we are doing so through a number of policy interventions. The attempt to regulate and sanitize the small-scale mining industry is one such to help keep our forest cover and reserves intact.
"Today's nationwide exercise will not be a one-off event. We intend to enhance ongoing afforestation programmes, and see to the sustainable exploitation of our forest resources", were the words of the Nana Addo when he planted a tree at the forecourt of Jubilee House, as part of 'Green Ghana Day'" Nana Akufo-Addo added.
The President explained that the forest is one of the most important natural resources of Ghana, as its continuous existence creates jobs, provides incomes for local communities, is a source of foreign exchange earnings through timber product exports, and offers environmental protection, including watershed protection and climate change regulation.
"However, the exploitation of forest resources for national development has not been sustainable over the years. Deforestation and forest degradation are the greatest challenges to sustainable forest management in Ghana today," the President said.
He continued, "The consequential effect of deforestation and forest degradation is severe climate change, which has dire consequences for our livelihoods, specifically the drying up of our water bodies, the pollution of our waters, loss of our prime timber species, loss of biodiversity, and change in rainfall patterns and weather conditions in the country."
Below are photos from the exercise at the Ministry of Energy: