POLITICS
Don't be armchair administrators – Nana Otuo Siriboe to MMDCEs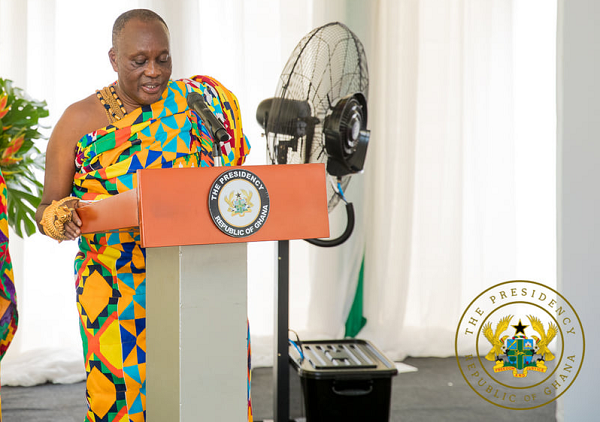 The Chairman of the Council of State, Nana Otuo Siriboe II, has charged metropolitan, municipal and district chief executives (MMDCEs) not to be armchair administrators but to move out regularly to the villages.
Moving to the communities, he said, would ensure that they were constantly in touch with the people on the ground instead of sitting in their offices.
"Every year the President goes round the country at least once, …opens new projects, commissions new ones and they feel the presence of the President in their localities. So I expect you to move out of your comfort zones," he stated.
Nana Siriboe, who is also the Omanhene of the Juaben Traditional Area, said this at the opening of a four-day orientation programme for MMDCEs in Accra yesterday.
''My advice to you as you begin this new journey would be first to avoid needless confrontations with traditional authorities, Members of Parliament (MPs), opinion leaders and your assembly members," he advised.
He further advised them to develop an attitude of patience, endurance, tact and respect in the course of their work, adding that if they showed the people respect, for example, they would win their affections.
The orientation programme for the newly-elected MMDCEs is on the theme: "Effective Leadership for Local Economic Transformation and Improved Service Delivery: The Role of MMDCEs"
Visitation
Nana Siriboe, who chaired the event, encouraged the MMDCEs to visit their localities, document and present detailed reports to their respective regional ministers.
''I would urge the regional ministers and the Ministry of Local Government, Decentralisation and Rural Development to be served with proposed itinerary of your stay in the localities at the beginning of the year and I also expect that at the end of the year, you also serve the regional minister and Ministry of Local Government, Decentralisation and Rural Development detailed and comprehensive reports of the visits that you undertook", he further stated.
Responsibilities
Nana Siriboe II said MMDCEs were the face of the President in their various localities and called on them to take time to adequately explain government budgets and policies to their people before the media took them up.
''Finally, remember that you are going to serve and not to be served," he said, and advised them not to be obsessed with the privileges that came along with the positions because doing so could mark the beginning of their failure.
Representative
The Greater Accra Regional Minister, Mr Henry Quartey, said MMDCEs needed to provide clear and concrete action plans and lead with the implementation of government's policies and programmes.
He said, for instance, with democracy, citizens had become more aware of their rights and demanded quality services, fairness and accountability from the public servants and "therefore, expect MMDCEs to perform their duties satisfactorily and not give flimsy excuses".
Source: Graphic online