POLITICS
'Culture of silence' tag on my gov't untrue – Nana Addo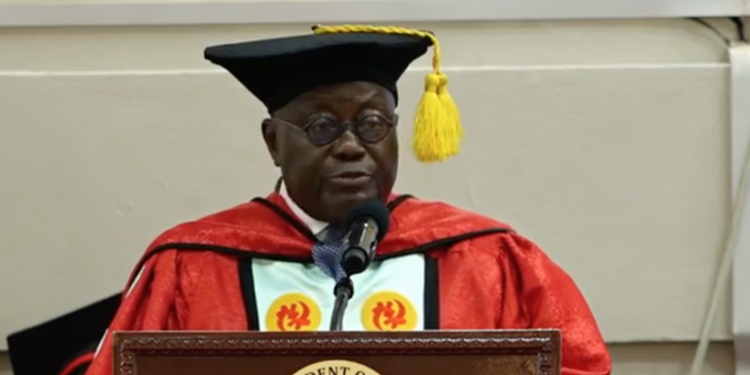 President Nana Addo Dankwa Akufo-Addo has denied supervising a government oppressing and causing culture of silence in the media space. 
He says it cannot be that government officials cannot respond to allegations against them, wondering how a spirited defence of the Free SHS, for instance, can constitute an attack on press freedom when a radio station is running a campaign just against the policy.
President Akufo-Addo expressed these sentiments on Saturday, May 29 when a special congregation was held in his honour at the University of Cape Coast to confer on him a honorary doctorate degree.
He noted that what the current society lacks is the ability to listen to each other.
"When it comes to the press, I am certain I have nothing to apologise for with reference to anything I have ever done or said. I have been a part of and sometimes led the struggle for individual rights and freedom of the press in this country. I believe in it. it is part of my makeup. A radio station is currently running a campaign against Free SHS. Would a spirited defence of the Free SHS policy constitute an attack on press freedom? I wonder. It cannot be that everyone has a right of a reply except members of the government and officialdom, nor can it be that challenging an opinion expressed by a journalist constitutes an attack on press freedom.
"Knowledge has never been a gift granted exclusively to one group. We must listen and hear each other more. I find it ironic that the presidency of a man who has been and continues to be daily the most vilified political figure of his generation can be accused of presiding over a culture of silence. There is no midnight knock on the door in Ghana or authors of dissenting views nor will there be during my presidency."