BUSINESS NEWS
COCOBOD secures US$190 million to clear outstanding debt to LBCs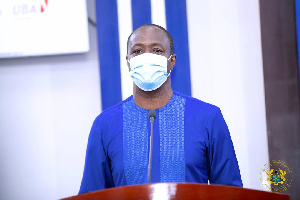 Fiifi Boafo, the director of public affairs at Ghana Cocoa Board (COCOBOD), says the regulator will access roughly US$190 million this week to clear debts owed to farmers and the licensed buying companies (LBCs).
The cash injection will enable COCOBOD to clear its debt in the coming days to LBCs engaged in purchasing cocoa across the country.
"If anyone tells you that we have not paid farmers or licensed buying companies since November, that is not true, that is not the case, because COCOBOD has already drawn down US$1.1 billion, which is about 92% of it. Plus monies sourced from Bank of Ghana have been used to pay licensed buying companies," he said.
He added, "We admit there have been some delays and the expectation is that this very week, we will draw down the remaining US$190 million, which will be used to service the remaining amount of money we are supposed to pay licensed buying companies."
Rising local production
Meanwhile, COCOBOD is seeking to increase local processing of cocoa beans by creating a high demand for and consumption of cocoa products within the country, starting with its National Chocolate Week campaign, which began on 8 February 2021 and runs until Sunday (14 February).
Speaking at the launch on Asaase Radio's Chocolate Affair season of programmes on Monday (8 February), Boafo said National Chocolate Week is expected to spark Ghanaians' interest and persuade them to indulge in the many mouth-watering products derived from Ghana's cocoa.
However, he expressed regret that a large percentage of the finished cocoa products on the Ghanaian market are produced outside the country.
This, he said, is because local processing is largely done at the primary level, which involves the conversion of cocoa beans into cocoa butter and liqueur rather than finished products.
He explained that the processing of cocoa has been at the primary stage in Ghana for years now because local demand for finished products has been low.
Nonetheless, great strides have been made over the past four years, he said, and policies introduced by the government in this period have led to an increase in local processing from 26% of the annual cocoa crop produced to 40%.