POLITICS
NDC's 'game plan' was to 'destroy' Akufo-Addo's swearing-in – Ken Agyapong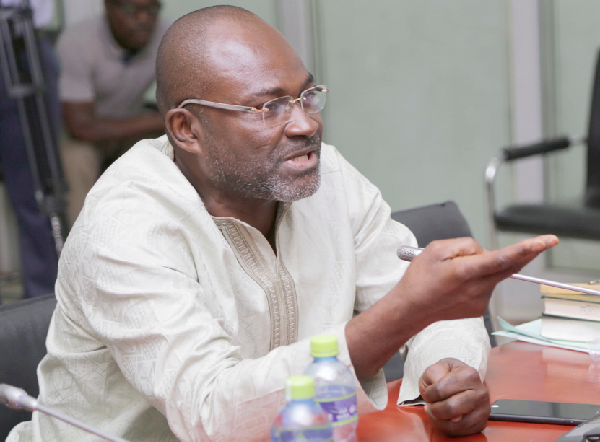 The Assin Central Member of Parliament, Mr Kennedy Ohene Agyapong says members of the National Democratic Congress (NDC) had planned to "destroy" the inauguration and swearing-in of President Nana Addo Dankwa Akufo-Addo, that is why they put up that attitude on the floor of Parliament Thursday dawn.
According to him, he received "intelligence" and the "game plan" long ago that, that was what the NDC Members of Parliament-Elect were going to do. The motive, he said was to deliberately delay the process, drag it and eventually affect the swearing-in and inauguration of President Akufo-Addo for his second term, which was witnessed by a number of foreign dignitaries and heads of different states who were in Ghana for the occasion.
He said that is why the New Patriotic Party (NPP) Members of Parliament-Elect, decided not to reciprocate in equal measure on the floor of Parliament to drag the process. According to Mr Agyapong, he received inside information that, the NDC members had planned to put up that attitude, to deliberately delay the process and affect the inauguration.
"I didn't want to destroy Akufo-Addo's swearing-in that is why I sat down quietly and observed the NDC members," Mr Agyapong said in a radio interview on Accra based Oman FM Friday morning [Jan 8, 2021].
He said some NPP members have an unforgivable attitude and so in a way, what happened was a "punishment" for the party. Mr Agyapong has been celebrated on social media for not participating in the chaotic incidents that characterized the election of Speaker of Parliament Thursday dawn in Parliament after a picture showing him sitting down quietly supporting his chin with his arms whilst the incidents unfolded on the floor was published on social media.
Reacting in the radio interview on Oman FM Friday morning, Mr Agyapong said: "I wasn't the one to go and destroy Akufo-Addo's swearing-in." "We [NPP] could have fought," but it would have dragged and affect the swearing-in of MPs-Elect and eventually the President and his Vice-President's swearing-in, that is why we from the NPP side decided to be quiet to let the NDC members have their way.
He said he was seen not participating in the chaotic scenes because his mantra was for peace that is why anytime he is seen talking with emotions, it always has to do with "fighting for peace, when somebody has been cheated, when I'm fighting for the vulnerable."
So why would I go and start something that will "destroy the peace we have." That is why I was seen sitting down quietly, Mr Agyapong added. "I always stand for peace and truth" and so looking at the youthful exuberance from the NPP side, "they were waiting for a command, to also retaliate, but what would have happened to President Akufo-Addo? That is why I kept quiet."
He said the back benchers and some senior members of the NPP were telling him to "whip" the NPP members in-line but he decided to be quiet and refrain from being accused of creating scenes knowing that he is now 60-years-old. However, Mr Agyapong said he was happy about what happened in a way because NPP supporters also decided to vote "skirt and blouse" and that is why the NDC won some seats and was able to have that numerical strength in Parliament.
He said if NPP members were to continue on that route, the party will go to opposition in 2024 and made reference to an Alan Kyerematen and Bawumia campaign for presidency which has started among some party members and supporters even before President Akufo-Addo was sworn-in for his second term. He therefore appealed to party members and supporters to use the example as a reflection and change from their ways adding that, the revelation is a sign for the NPP to change to be able to win 2024, "if we all come together, realise our mistakes and put things behind us… and follow with unity."
He said party members need to relax for the next two years and see what will happen, "leaders emerge" and added that if anybody was going to be able to win 2024, it will depend on Akufo-Addo's performance.
Sack MMDCEs
Mr Agyapong appealed to President Akufo-Addo to refrain from his "gentle" posture and sack about 98 percent of Metropolitan, Municipal and District Chief Executives (MMDCEs), for disappointing and letting the President down.
He said even though President Akufo-Addo has urged calm and appealed to party leaders not to do a post-motem of Election 2020 publicly, he [Ken] was sorry he has flouted that directive but he was convinced about 98 percent of MMDCEs ought to be sacked.
He said he will get closer to the Minister of Local Government and Rural Development feed the Minister with information on who to retain and insisted just about two percent ought to be retained including his [Ken's MCE], who he said he will recommend for retention.
The rest are bogus and worked against the progress of the NPP with the development of cracks in the party, the vociferous Ken Agyapong said.
Source: Graphic.com.gh