Editorial
BLACK SATELLITES HAVE MADE US ALL PROUD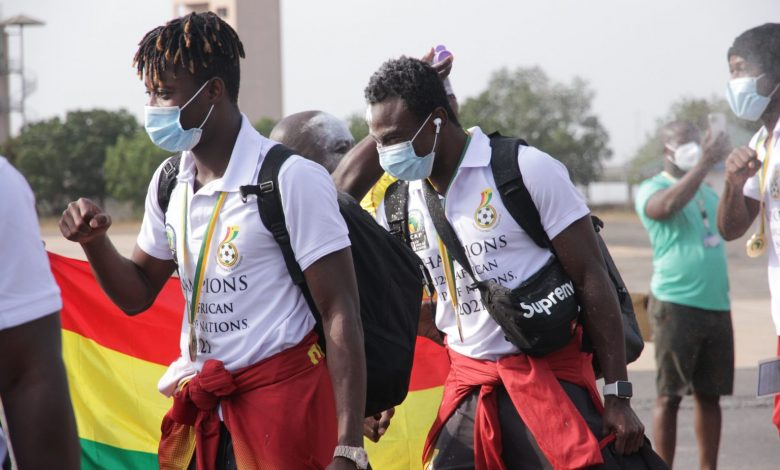 The President, His Excellency Nana Addo Danwa Akufo-Addo, during his State of the Nation Address SONA, took the opportunity to congratulate the male senior team, the Black Satellites, by qualifying for a World Cup tournament to be played in South Africa.
On behalf of all Ghanaians, the President applauded their commitment and skills which were employed gallantly in retaining our image once again as a soccer nation of merit.
As the President noted, that feat like any other call to national duty does have not been easy. Satellite
Sharing in the President's joy
Since the New Patriotic Party's first taste of political power in this Fourth Republic, sports under our two Presidents, John Agyekum Kufuor and Nana Addo Dankwa Akufo-Addo have fared modestly.
That, we presume, is because of the investments the NPP has made in developing human talent in the sector but also investing in infrastructure and policy to ensure that sectors thrive.
Apart from several stadiums that were built during the Kufuor administration, Nana Addo Dankwa Akufo-Addo has also even under a shoestring budget, gone the extra mile, for instance, in improving facilities and constructing others, particularly under a Zongo Development Project.
Thankfully, we are seeing results after we had hit rock bottom in our performance in the football and boxing arenas, with the Satellites shining once more to signal that under a good leader, citizens gain motivation to do what ordinarily would have been challenging tasks.
Commendation
We, therefore, join the President in commending the players, the bench, technical team coach, management as well as everybody who put brain and brawn together to attain this glorious feat.
As the President indicated, this is only the beginning of a journey that should announce to the world that the Black Satellites and Ghana, for that matter, are back on the theatre to showcase African soccer.
It is also our opinion that we refuse to stay in that sunlight and move forward in facing the bigger challenge with the same attitude and commitment that heralded the victory on a match-by-match level.
Taking a cue from Abedi Peles and Tony Yeboah's
One of the challenges facing budding soccer stars of today is that, while their seniors showed exceptional class and discipline in plying their trade in Europe, the younger ones fail to learn lessons in sacrifice and hard work, allowing themselves to be tempted by a few thousands of dollars when millions are within their grasps through sheer hard work.
Instead of comparing themselves with peers in Nigeria and Cameroun or back home in the manner the Abedi Peles and Tony Yeboah's handled their careers, they join awful celebrities in celebrating mundane, local achievements and making the headlines for the wrong reasons.
Discipline
If we would be true to ourselves, it has been our lack of discipline which has been costing us the laurels since the last time we played any serious soccer. That, we may further admit, has been as a result of poor management strategies our allowing politics rather than a policy to dictate planning, selection of players, effective management of alliances in the playing body, and the unfortunate tendency of technical handlers to overlook cases of indiscipline on the part of so-called senior players.
It is the prayer of all Ghanaians that the team, including players and technical bench, will take the President's advice seriously and live it out on the playing field and dressing room, in bringing home more and more laurels.
** The Thunder Gh News | News In Flash! here
Follow us on Twitter: @TheThunderGh
#TheThunderGhNews