NEWS
BANDITS TARGET TOMATO TRADERS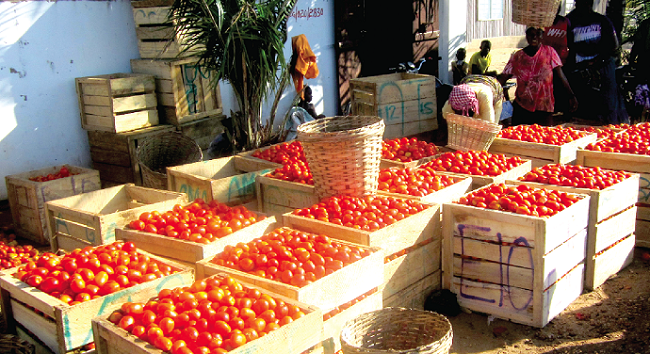 As the Ministry of Trade and Industry doggedly puts in place an enduring multi-sectoral initiative to regulate the tomato industry for the benefit of state and non-state stakeholders, independent tomato producer sources in the Upper East has lamented a creeping infestation of the cross border trade by bandits in the same region.
A driver, Adams Sulemana, with vehicle registration No AS 4291-17, who tried to plead on behalf of the traders who were predominantly women, was seriously wounded from a gunshot, with his bowels gushing out.
Efforts by medical personnel at the Bolgatanga Regional Hospital to save his life proved futile.
A Moslem, the victim has since been buried at Bolgatanga, police disclosed as investigations continue.
In a series of midnight attacks on tomato and other traders who buy within the region and outside into Niger, Mali, and Burkina Faso, three caravans of traders have been attacked and robbed of hard cash, amounting to over one hundred thousand cedis.
Buyers carrying cash on them across borders is a routine practice that attracts bandits in areas where police patrols are a luxury.
Police are investigating, with strong suspicions that these particular bandits may be youth from the region, rather than Fulani herdsmen who are known professionals along the highways in the sub-region.
The affected victims were from markets in Race Course, Kumasi, Takoradi, and the more recent one involving traders from Ashaiman.
The attacks, the report added, occurred along the Bolgatanga road to Navrongo and Paga.
The latest incident, which adds up to three, occurred at Doba, the hometown of late IGP Peter Nanfuri on the way to Navrongo – all within a week.
Other vehicles involved include AS 1557-20.
The latest incident brings to the fore the need for sanitization and formalization of the food and livestock value chain along the stretches in the sub-region.
The incident has forced the leadership of the Ghana National Tomato Traders and Transporters (GNTTTA) to meet and petition MOTI in discussing reforms that would provide security of persons and cargo in living out the Africa Free Continental Trade Area AfCTA vision.
Interestingly, the GNTTTA and a state delegation were scheduled to have taken a familiarization trip to the Upper East and Burkina Faso to enable the government and the GNTTTA to fine-tune its regulatory mechanisms, only to witness an interruption in the programme put together by the multi-sectoral National Tomato Enterprises Stabilization Committee (NTOES) under the MOTI.
Traders being attacked on their way to farm gates is a regular feature of the informal food and livestock local and cross border trade, with women being not only robbed but raped or both, while they keep it to themselves as an occupational hazard, insiders told The Thunder Gh News.
** The Thunder Gh News | News In Flash! here
Follow us on Twitter: @ThunderGhNews
#TheThunderGhNews