NEWS
Adenta Community JHS teacher wins 2022 National Best Teacher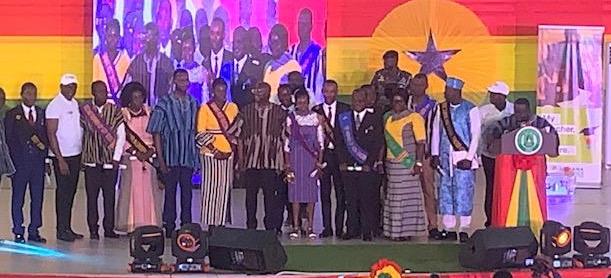 Ms Stella Gyimah Larbi, a teacher at the Adenta community Junior High School (JHS) in the Greater Accra Region was on Wednesday crowned the 2022 National Best Teacher.
For her prize, she received a three-bedroom house worth GHC300, 000, education trip to Dubai, promotion on turn and a GETFUND scholarship to study abroad.
Fati Issifu, a tutor at the Buipe Senior High Technical School (SHTS) in the Savannah Region was adjudged the first runner-up and she took home a brand new pick up vehicle and life insurance from Prudential bank.
At the Ghana Teachers Prize 2022 awards held in Tamale, David Harrison Mensah, a teacher at the Sefwi Bekwai SDS JHS in the Western Region was also adjudged the Second Runner-up and was presented with a new saloon car.
Cash prizes ranging between GHC8, 000.00 and GHC15, 000.00 as well as other valuable items were also presented to other 10 deserving teaching and non-teaching staff, who distinguished themselves in other categories of the award, including leadership,  Junior High, Primary and Kindergarten levels.
Held on the theme: "  The Transformation of Education begins with teachers" the awards which were organised by the National Teaching Council (NTC) in collaboration with the Ghana Education Service and its partners seeks  to recognise the gallant contributions of teachers towards the attainment of quality education as Ghana joined the rest of the world to mark the World Teachers Day (WTD).
The WTD is marked October 5, every year to celebrate gallant teachers as well as celebrate the introduction of the 1966 International Labour Organisation or the United Nations Education, Scientific and Cultural Organisation(ILO/UNESCO) recommendations concerning the status of the Teacher.
Acknowledgment
The Vice President, Dr. Mahamadu Bawumia, who graced the occasion acknowledged the  remarkable contribution of teachers towards the attainment of quality education and national development.
He said the achievements chalked by  teachers cannot be under estimated, describing them as the bedrock of the ongoing reforms and massive investment in Ghana's education sector since 2017.
He pledged the government's resolve to  continue to partner all stakeholders in education, particularly teachers, to ensure that the objective of producing graduates ready for the Fourth Industrial