LOCAL NEWS
14 Receive Training In Cervical Cancer Screening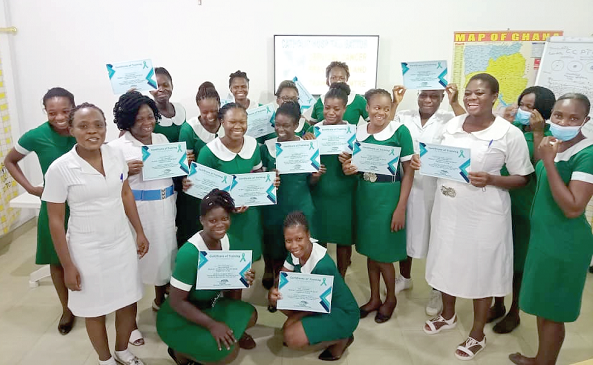 Fourteen health workers from various facilities have completed training in cervical cancer prevention at the Cervical Cancer Prevention Training Centre (CCPTC) at the Catholic Hospital at Battor in the North Tongu District in the Volta Region.
The trainees wer from the Upper East, Upper West  and Savannah regions.
It is the first time trainees from those regions have undergone training in that particular endeavour.
There were also participants from the Volta and Oti regions.
Module 1 Training
Having successfully undergone the training in Module One of the programme, the trainees have been equipped with skills to set up cervical cancer screening units and to screen for cervical precancer.
In addition, they can perform clinical breast examination to screen for breast cancer.
After the two-week programme, they made powerpoint presentations on how they were going to lead the cervical cancer screening charge in their various communities and facilities and also, possibly, how they intended to mobilise funds to sustain their efforts.
They each received a certificate of participation.
Screening at Mepe
As part of the training, the CCPTC team embarked on an outreach programme at the Mepe Community Healthh Planning Services (CHPS) and the Planned Parenthood Association of Ghana (PPAG) facilities.
It was the first time the CCPTC had undertaken such an exercise and the trainees were assisted by the resident team of nurses — Mr Albert Ahorsey, Ms Dorcas Ayisi Safoah, Ms Mildred Thompson, Ms Peace Voleto, Ms Rachel Dadeboe and Ms Abigail Ahelegbe.
The Queen Mother of Mepe Traditional Area, Mamaga Adzor Sreku IV, who was actively involved in mobilising the women for the screening, was present.
Fifty-four women were screened for cervical precancer by Visual Inspection with Acetic acid (VIA) and seven positive cases were detected, while 57 also underwent clinical breast examination.
Of the number, one was found to have a breast lump and she had been referred to the Department of Surgery, Catholic Hospital, Battor for follow up.
Help save lives
Addressing the trainees at the closing session of the programme, the Head of the CCPTC, Dr Kofi Effah, entreated the trainees to make good use of the knowledge gained to help save lives.
He emphasised that breast cancer and cervical cancer were the top two causes of cancer deaths in women in Ghana and offering screening for those in communities across Ghana would significantly reduce deaths.
Objective
The main objective of the training, the head of the training centre emphasised, was to make it possible for "all women everywhere within Ghana to easily access cervical cancer screening just as they are able to access their basic health needs."
Source: Graphic