POLITICS
We're Fighting Demons, Principalities – Dr. Bawumia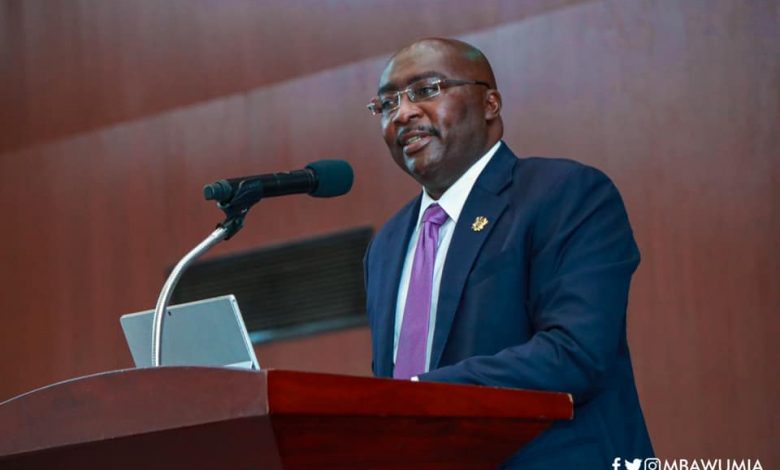 Vice President Alhaji Dr. Mahamudu Bawumia has said sarcastically that there are 'demons' and 'principalities' working to impede the growth of the economy and the overall development of the country, but assured that the government is determined to take the fight to them.
The Vice President made the statement, which attracted spontaneous laughter and applauds, on Saturday, when he spoke as the Special Guest at the 13th Congregation of Nana Opoku-Ampomah University of Professional Studies, Accra (UPSA).
"As you enter the public sector," he told the graduating class, "you will see that you will be challenged by demons and principalities. The demons and principalities are all over the place and you will have to fight them and we are going to fight them and we are going to win that fight too."
He said the government's effort towards building a robust economy through the application of ICT and digitisation, is on course and that will not be compromised in any way.
The Vice President said "some people have wondered, and said oh, Dr. Bawumia, you used to talk about the economy and now you are talking about digitisation, but they do not really see the link that the two are one and the same (sic) because we need to build the fundamentals of the economy and that building the fundamentals of the economy lies in putting in place a system that promotes transparency and accountability and fight corruption."
Taxable Population
"In fact, we had only about 4% of our adult population registered for taxes that is our tax identification records at the end of 2016 that is from independence to that year and that tells you how narrow the tax base was. There were multiple sales of land, no database on properties, lack of transparency and so on. So we are dealing with a lot of these problems in the economy and in the society," he pointed out.
He said that "what we basically said was that we have to attack these problems and find solution to these problems because, we have talked about them and talked about them for many years and therefore, the task that faced us was to build a system that was based on data and not on who you know or the discretion of individuals."
He continued that "if you look at the system that we were inheriting, a lot of activities were based on discretion and on who you know culture. We need to build a system that promotes transparency and accountability, a system that eliminates corruption in the provision of government services and the system that works for the poor and the vulnerable and the excluded in the society."
Digitising Economy
"We decided that one of the best ways, as we entered this fourth industrial revolution, in the global economy, Ghana could really position itself in the global economy and as well address all of these problems, was to pursue a strategy of digitisation of the economy; and this is why over the last four years, under the leadership of the President, we have been focusing on this," he added.
The Vice President said that "one of the key tools that we have implemented in this fight has been the national identification system, that is the biometric system and it is a unique system. So far, we have been able to register 15.5 million people under the national identification system, so we moved from zero to 15 .5 million. That is a major for us because now everybody has a unique ID which means that you cannot hide."
Bank Loans
He said "there used to be a time you can go to a bank, borrow money and then you go and change your name and go to another bank to borrow money and then do that again and again. It used to happen but sorry it is no longer going to happen again because with the national ID we want to bring transparency and with the national ID we are linking all bank accounts.
"We have also implemented a nation digital property addressing system whereby every location in Ghana has a unique address. We had only about 10% or less addressing systems for properties in Ghana but today every property has a unique address and so we have 100% coverage."
In pursuit of this agenda, the Vice President said that "we have identified 7.5 million properties including properties in the villages and as you can see, the process of placing addresses on all properties is ongoing and we hope to complete that process by next year. This is going to be very important for e-commerce, for deliveries and government services and so on."
Momo Interoperability
He said "we have also implemented a very unique interoperability for our mobile money. 30% of our adult population have bank accounts and most people had mobile money accounts and we just decided that we should do the interoperability of the bank accounts and the mobile money account so that a mobile money account can function like a bank account. It is a simple idea. We put it together and our people have been able to do it."
He narrated that "today, Ghana is the only country in Africa that has been able to do this so it has moved the number of people with access to financial services through an account, be it mobile money or bank account from the 30% to 90% and that is a major growth."
Dr. Bawumia added that "mobile money interoperability has made Ghana the fastest growing mobile money market and last year mobile money transactions in Ghana total $100 billion dollars equivalent, so it is impacting on the economy."
New Babies
He also said that "we have brought in the universal QR code. We have digitized operations at the DVLA, Passport Office. We are 80% done at the Births and Death Registry and by next year, anybody who is born in the country, regardless of where you were born, at birth you will be given national ID card number and then it will enter the database and that will follow you through school all the way till you die."
"It will make our census down the road very easy because everybody who dies will get off the database and those born will get on the database and we will have much more accurate data as we move forward," he added.
Linking ID
"Just by linking the national ID number and making it your tax identification number, we solved a little problem. Immediately we did that, as at June this year, we increased the number of people registered for tax purposes from 4% as at 2016 to 86%. By doing that we were expanding the tax base of the economy and we know that by next year we will be over 90%," he said, adding "we have done a similar thing for the SSNIT, and NHIS. It is a new economy that we are building and it is going to be a major factor."
"In the education sector, as we know, COVID-19 presented many challenges across several sectors of our economy but despite the challenges, a number of universities including UPSA have been able to leverage the technology and digitisation to support academic work. And access to internet and connectivity to ensure that academic work, commercial transactions and other social activities were uninterrupted."
UPSA Vice Chancellor
Vice Chancellor of the UPSA, Prof. Abednego F.O. Amartey, giving his report said 870 students graduated and the School of Graduate Studies alone presented 764 students comprising 55 for Master of Philosophy, 591 for Master of Business Administration, 107 for Master of Arts and 11 for Master of Science and Insurance Risk Management.
The UPSA Law School also graduated 106 students where 15 of whom obtained Second Class Upper, 47 Second Class Lower and 35 Third Class and one obtaining a pass.
"In 2017, our total student body count was about 11,500, today we are more than 18,000 students," the Vice Chancellor said, adding "in 2017 we had a total of 20 academic programmes, and we have increased the number to 30. It is worth noting that we have about seven additional programmes in various stages of accreditation."
Source: Daily Guide