Editorial
WE MUST MOVE FORWARD WITH, NOT PUSSYFOOT OVER AGYAPA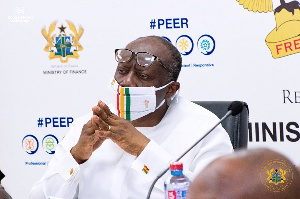 The politics over the Agyapa Deal will not go away today or tomorrow. It has come to stay till we agree to roll out the deal as a nation.
Relevant and credible civil society actors have advised that we need a united front as a nation to roll the deal out. Perhaps, that is why the President, His Excellency Nana Addo Dankwa Akufo-Addo, decided to return the matter to the floor of the House for another Ghana First and inclusive determination of the matter.
We at The Thunder suppose that it will go back to the Committee where the sticky issues would be looked at from professional, legal and business level and back to the House for a vote.
While we await that public announcement and the re-look on the part of the Legislature, we believe this is the time for the leading opposition National Democratic Congress to begin putting together their notes on the matter.
That is important because during the conversation over the construction of a new voters' register, all they did was attempt to frustrate the processes, instead on being part of it.
Apart from demonstrating against it, they were busy calling the EC Commissioner names and asking their constituencies initially to boycott the processes.
They even ran to Embassies alleging that the ruling administration was perpetrating an illegality, though they refused to fight that case out in the courts.
Eventually, when they headed for Court and lost, they returned, deprecating the processes when government closed the borders all over, claiming that all the borders – from the Volta Region and northern regions to Brong Ahafo and Western Region –were their strongholds.
Their argument was that the decision which was guided by the COVID-19 protocols was actually political.
That the NDC have enough technocrats who can engage the NPP over Agyapa Deal cannot be denied. From Sallas-Mensah and Moses Asaga through Kwesi Botchwey and Kwame Peprah to Goosie Tanoh, the NDC can – putting Ghana first – sincerely do that and the matter to the voting processes. That's the name of the game.
Beyond that, they may demonstrate and leave the decision to the opinion of the public as John Mahama and theTsatsus and Tony Lithurs did at the Supreme Court.
Unfortunately, we cannot forever postpone Agyapa; we must deal with it as men. And as a people, we must bite the bullet and determine to move Ghana forward.
We at The Thunder believe we can do that conveniently as civilised people and ignore the whining of the Asiedu Nketias and Samuel Ofosu Ampofo; or the Sammy Gyamfis and his band of cacophonous communicators.
#TheThunderGhNews