Editorial
WE HAVE A DUTY TO BE EACH OTHER'S KEEPER AS INGREDIENT TO BASIC DEVELOPMENT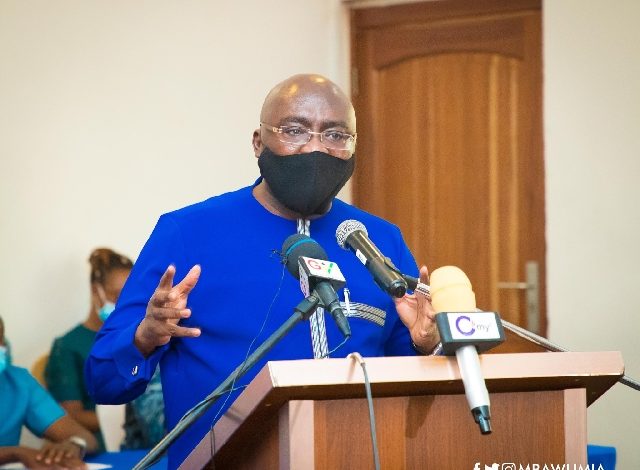 Vice President Alhaji Dr. Mahamudu Bawumia, last weekend drew the attention of the general public to a deep spiritual truth enshrined in the Q'uran and Bible, but which also finds expression in our diverse cultures.
According to the Vice President, human beings – just like beasts – enter the world naked and exit naked. It is on that score that he believes every person, who is blessed with a little more than life ordinarily offers, owes it to society and fellow beings to share his blessings with less fortunate brothers and sisters.
Divine truth
That is why he prompted the public with the naked fact about all beings leaving this world with their belongings and assets. And he was spot on when he urged all of us as human beings, citizens, and Ghanaians to try and let those blessings also rub off on the poor and underprivileged so that we have grown and prospered together.
Soup Kitchen
The point was made on a very relevant platform and religious setting where a Roman Catholic father had arranged a ritual feeding the multitudes party for poor kids.
Dubbed the Soup Kitchen, the event which was held at the Christ the King Parish in Accra, was intended at providing hot meals to kids periodically; and we are told that since January 16, 2016, the minister of the gospel has treated over300,000 kids to such acts of compassion, with the support of philanthropists. That is aside from some 800 he daily fed during the last lockdown.
Yet again, we are told that the scope of his social work extends to sending needy kids to school on scholarships.
Good governance and inclusiveness
Life in civilised societies as history has revealed involve sharing – whether it is a season of joy and partying or pain and funeral. As Ghanaians, this has been very much of our culture, regardless of our ethnicity, cultural or religious background.
That we have associations and groups and welfare societies and credit unions tell a story about collective strength derived in unity and that is why we see, for instance, development associations of some regions excelling in development for the benefit of their regions while others, which fail to imbibe this act of collective charity stagnate.
Leadership
In all of this, whether we would be successful in seeing growth and basic development in the home, community, or nation and workplace depends on leadership and how we harness our available human resources to learn how to sacrifice and share our lives in voluntary activity for the benefit of our communities.
As we have seen in ordinary life, quality leadership at lower echelons of society including neighborhood watches, women's associations on markets, old school unions and youth associations, etc, when the focus is on development, including rehabilitating schools and other social amenities, may all be referred to the sharing that we need to grow together as the Vice President pointed out.
That is why communities that promote open defecation and degradation of natural resources tell a sorry picture about leadership and development. But that is also why the privileged and elite in such communities must therefore take responsibility for such acts of negligence because the responsibility of development is not always within the ability and capacity of the loud-mouthed politician.
It is therefore the opinion of the Thunder that wherever our station in life is, we can – like the reverend father – make a difference, by sharing the little we have with persons less privileged than ourselves.
Such little acts of compassion, cumulatively, can enable us to develop faster, as we check greed and corruption at higher levels and invest more at the state level in social programs.