LOCAL NEWS
'We are a kingdom united in grief and gratitude,' Boris Johnson says.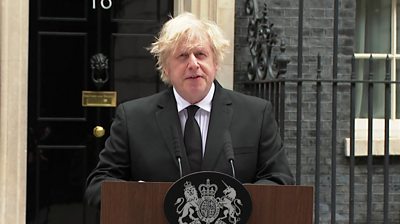 Prime Minister Boris Johnson of Britain led tributes to Prince Philip on Friday, praising his lifelong support for Queen Elizabeth II and adding that he had "earned the affection of generations here in the United Kingdom, across the Commonwealth and around the world."
"He was the longest-serving consort in history and one of the last surviving people in this country to have served in the Second World War," Mr. Johnson said in a statement read in somber tones.
Referring to the prince's hobby of driving horse-drawn carriages, Mr. Johnson added that "like the expert carriage driver that he was, he helped to steer the royal family and the monarchy so that it remains an institution indisputably vital to the balance and happiness of our national life."
The leader of the opposition Labour Party, Keir Starmer, echoed those sentiments, saying that Britain had "lost an extraordinary public servant."
"Prince Philip dedicated his life to our country — from a distinguished career in the Royal Navy during the Second World War to his decades of service as the Duke of Edinburgh," Mr. Starmer added in a statement. "However, he will be remembered most of all for his extraordinary commitment and devotion to the queen."
As is tradition after the death of a royal, the government said it was going into a period of mourning, during which time there will be limited ministerial statements and media appearances — basically restricting pronouncements to those connected to the pandemic and other matters deemed urgent.
Scotland's leader, Nicola Sturgeon, said that she was saddened by the news of Philip's death and that she was sending her deepest condolences to the royal family.
Sadiq Khan, London's mayor, said that he was grateful for the contributions Philip had made to the city, including his charity work, and that his legacy would positively impact the city for many years to come.
Lindsay Hoyle, the House of Commons speaker, also paid tribute, saying, "His was a long life that saw so much dedication to duty."
In prerecorded remarks broadcast on ITV News, Theresa May, Mr. Johnson's predecessor as prime minister, reflected on Philip's supporting role: "It must be quite difficult for a male consort. They have to recognize their life is the monarch or head of state. But throughout his life, Prince Philip provided that strength, that rock, that reliable support and played an immensely important role," she said.
Credit: Nytimes.com