Showbiz
Watch Moment Crybaby Piers Morgan Stormed off GMB Set After fellow Presenter Criticized his Coverage of Meghan Markle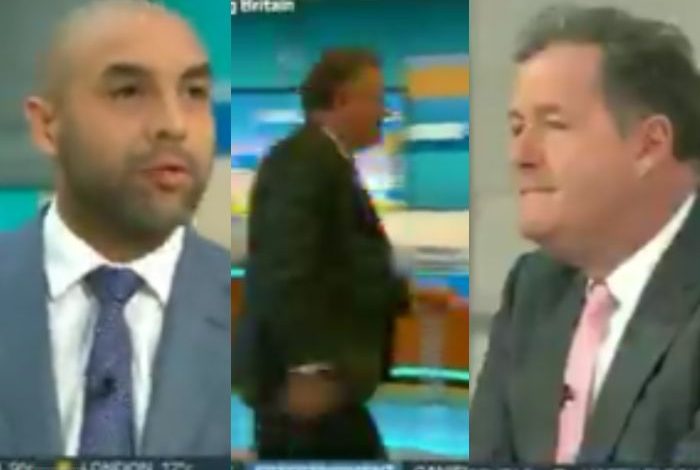 Piers Morgan is having a really rough couple of days.
His coverage of the recent bombshell interview by Meghan Markle – in which she revealed that her baby was denied a royal title and security because of his mixed-race – has been heavily criticized.
He got into a shouting match with a black British professor Monday in which she really schooled him!
The Queen is not above reproach. She & the Royal Family are neither faultless or perfect. They have a case to answer for the failure to support #HarryandMeghan from racism/ hate media which led to them stepping back royal duties. #HarryandMeghanonOprah #OprahMeghanHarry #GMB pic.twitter.com/5ZIkLyOCR3

— Dr Shola Mos-Shogbamimu (@SholaMos1) March 8, 2021
Piers is being criticized once again – this time for storming off the set of his show Good Morning Britain.
A fellow presenter on GMB laid into Piers today, criticizing his coverage of Markle.
The presenter said Piers had some personal animus against her which is driving his attacks on her.
The tough talking presenter, who is famous all over the world for never holding back, apparently couldn't stand a little criticism and walked off the set.
Apparently Piers can attack anyone all he wants but a few critiques from others and he's running away.
Pathetic!
Watch the confrontation below…
Piers Morgan just walked off the Good Morning Britain set (!!!) after co-presenter Alex Beresford defended Harry and Meghan and condemned Piers' treatment of them in yesterday's programming pic.twitter.com/mH75J8ND4O

— Chris Rickett (@chrisrickett) March 9, 2021