POLITICS
Two Canadian Girls Kidnapp: Court Asks Sammy Gyamfi To Pay GHc 500,000 In Damages To NAPO For Defamation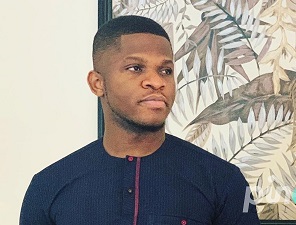 National Communications Director of the largest opposition National Democratic Congress (NDC), Sammy Gyamfi, has been charged by the Accra High Court for defamation of Energy Minister, Dr Matthew Opoku Prempeh.
Justice Charles Gyamfi Danquah presiding over the case has therefore awarded damages to the tune of GHc 500,000 to the Energy Minister and ordered Sammy Gyamfi to publish a retraction and an apology.
The High Court, Accra, General Jurisdiction 12, presided over by Justice Charles Gyamfi Danquah, in a judgment delivered on Thursday, 13th October, 2022, in the case of Dr Matthew Opoku Prempeh v. Sammy Gyamfi finds that Sammy Gyamfi defamed Dr Matthew Opoku Prempeh, Minister for Energy and MP for Manhyia South consituency, when Sammy Gyamfi, at a press conference in June 2019, stated that Seidu Yakubu aka MBA, suspected of being involved in the kidnapping of the 2 Canadian girls in the year 2019, is the errand boy of Dr. Matthew Opoku Prempeh.
Statement of claim

In the plaintiff's statement of claim, he averred that Sammy Gyamfi had greatly injured his positive image by falsely linking him to one Seidu Yakubu, aka 'Mba', the alleged ringleader in the kidnapping of the two Canadian girls in Kumasi.
The lawyers said the defendant's statement had dented Napo's image both in Ghana and abroad, considering the fact that the said statement was widely captured in the media and other electronic platforms.
The statement said over his entire public and private life, Napo has led a decent lifestyle worthy of emulation and so Sammy Gyamfi had no justification to link him with miscreants to dent his image.
According to him, Sammy Gyamfi, by his statement, intentionally portrayed Napo as a person who supports thuggery, kidnapping and other illegal acts without any proof.
Plaintiff's request
Therefore, lawyers for Napo prayed the court to restrain Sammy Gyamfi and his agents from further making or publishing defamatory words against him.
They also urged the court to order Sammy Gyamfi to apologize and retract the defamatory statement with the same prominence the defamatory words received within seven days after the judgment.
By court
In court Thursday (13 October 2022), Justice Charles Gyamfi Danquah, in his judgment indicated that the plaintiff (Napo), has established that indeed Sammy Gyamfi by his comments defamed him (Matthew Opoku Prempeh).
The court awarded damages of GHC500,000.00 and restrain Sammy Gyamfi and and also ordered him and his agents from further making or publishing defamatory words against the Energy Minister.
The court also ordered Sammy Gyamfi, to apologise and retract the defamatory statement with the same prominence the defamatory words received within seven days after the judgment.
Background
Sammy Gyamfi is said to have stated during a press conference on Thursday, June 13, 2019 that, there was a "connection" and a "relationship" between Dr. Opoku Prempeh popularly referred to as NAPO [Nana Poku] and Seidu Yakubu, also known as "MBA", one of the accused persons in the June 4, 2019 kidnapping of the two Canadian women in Kumasi.
"Seidu's association with the NPP is more than meets the eye. He is alleged to be the personal bodyguard of the Asokore Mampong MCE, Alhaji Alidu Seidu, and an errand boy for both Manhyia MP, Hon Mathew Opoku Prempeh and Ashanti Regional Chairman of the NPP, Bernard Antwi Boasiako (aka Wontumi," Mr Gyamfi reportedly stated at the press conference according to Dr Opoku Prempeh's lawyers.
However, the lawyers, Sarkodie Baffour Awuah and Partners are insisting that "The aforementioned statement is not only false but malicious as the said Seidu is no errand boy" of Dr Opoku Prempeh.
They argued that Mr Gyamfi's statement was a suggestion that Dr Opoku Prempeh condones and associates himself with persons suspected to have engaged in the crime of kidnapping, and sought to ascribe to "our client's inappropriate conduct of involvement with persons you describe as thugs."
The lawyers served notice that they have instructions to institute legal proceedings against the two if they fail to honour the demands within 48 hours.
But speaking on the matter on Asempa FM's 'Eko si sen' show, Sammy Gyamfi who's a trained lawyer insisted that he sees no defamation or malice in the statement he made, hence will not retract no apologize.
"I have no apology to render to Matthew Opoku Prempah or retract my statement about him. If someone makes a statement saying it is alleged, does that make his pronouncement defamatory or malicious? I owe Dr. Matthew Opoku Prempeh no apology, all that I've said is the truth and fact. If someone says what I said is defamatory and the advice of his lawyers is that he should go to court and thinks he can discern malice from that, he can take the lead to the court, the Judge will eventually rule whether there's indeed malice in my statement or not. I have nothing to retract or apologize for relative to that statement."
Two Canadian women kidnapped at gunpoint in Kumasi
The two Canadian females, 19 and 20 years respectively, were kidnapped by four unknown men at a private hostel at Ahodwo in Kumasi in June, 2019.
Security forces rescued the two Canadian women who were abducted and arrested eight people in connection with their kidnapping.
The pair were named as Lauren Tilley and Bailey Chitty by Youth Challenge International, an international development organisation headquartered in Toronto.

Senior State Attorney, Ms Hilda Craig, told the Accra High Court at the time that the Attorney-General decided to free the four after reviewing the case docket following investigations.
The four: Seidu Abubakar alias Mba, Abdul Nasir, Safiano Abubakar and Abdul Rahman Suleimana aka Wofa were acquitted after a change in the charge sheet by the Attorney General's office.
This incident drew the ire of the Canadian government who issued a strong statement to its citizens willing to visit Ghana.
Source: Peacefmonline.com