NEWS
Thank you for leading stakeholder engagements – Ken Ofori-Atta to Prez Akufo-Addo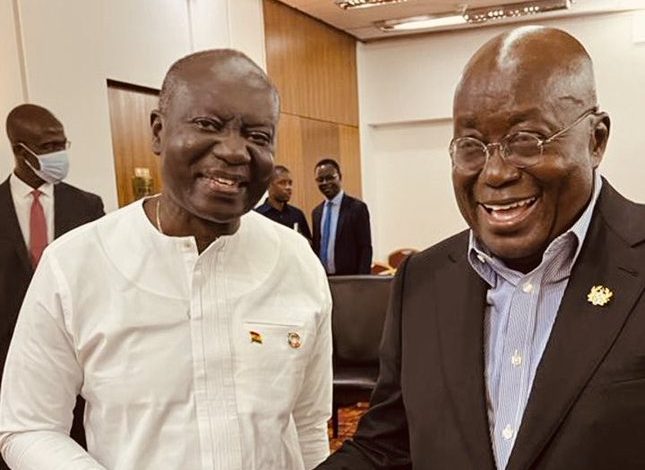 The Minister of Finance, Ken Ofori-Atta has expressed appreciation to President Nana Addo Dankwa Akufo-Addo for leading Tuesday's stakeholder engagements on the economy.
In a series of tweets by the Finance Minister's office, it was explained that the stakeholder engagements will continue on Wednesday with market women.
The Finance Minister has come under pressure this week with some members from the majority caucus asking President Akufo-Addo to remove him, together with Charles Adu Boahen, a Minister of State at the Finance sector from office.
The MPs believe that the removal of the two will help restore some confidence in the sector.
Already, the leader of government business in Parliament, Osei Kyei-Mensah-Bonsu has disclosed that President Akufo-Addo has told members of the majority caucus clamouring for the removal of the Finance Minister to consider the timing of their call.
The timing here is in reference to the discussions with the International Monetary Fund (IMF), which the Finance Minister, Ken Ofori-Atta was leading and they are getting closer to a deal.
Again, President Akufo-Addo also wants the members to consider the timing for the preparation of the 2023 budget, the impact of Mr Ofori-Atta's removal on the economy, the impact on the budget and the crafting of the 2023 budget.
President Akufo-Addo, according to Mr Kyei-Mensah-Bonsu, who is also the Minister of Parliamentary affairs made the "passionate plea" when he met with the caucus on Tuesday night after some members of the group had held a press conference to demand the sacking of Mr Ofori-Atta as Finance Minister, and Charles Adu Boahen, as a Minister of State at the Finance Ministry.
Source: Graphiconline.com