POLITICS
Race For Akufo-Addo Successor: Reject Akan Flagbearer… Kyei-Mensah-Bonsu Roars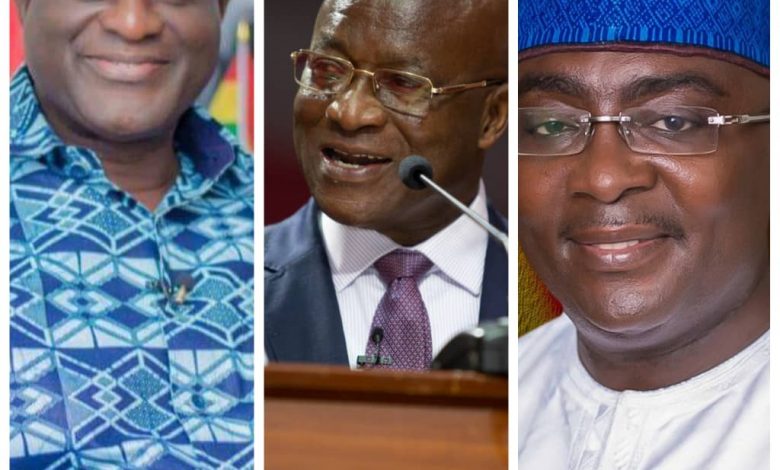 After winning presidential elections with John Kufuor and then Nana Akufo-Addo, it would be a wrong strategy and a  politically incorrect one  for the New Patriotic Party (NPP) to pick a presidential candidate who is an Akan to contest the 2024 presidential elections,  the Member of Parliament for Suame Constituency who doubles as the Majority Leader in Parliament, OSei Kyei-Mensah-Bonsu has noted.
The loaded statement by the Majority Leader, himself an Akan, clearly campaigns against persons of Akan origin within the NPP family who have been warming up and lacing boot over the years to become the party's flag-bearer and in this regard, the name of Trade Minister Alan Kyeremanten stands tall.
At the last NPP presidential primaries in October 2014, Alan Kyerematen had just 4.75 percent of the valid votes. Alan beat Francis Addai Nimoh who secured 0.91 per cent, while Nana Akufo-Addo emerged winner with  a thunderous 94.35 per cent, and went ahead to win the national polls as well in 2016 and again in 2020.
It has been widely predicted that Alan would contest the next NPP presidential primaries but Osei Kyei-Mensah-Bonsu explains why he does not believe it is right and appropriate.
According to the Majority Leader, although he himself believes he has the competence to contest the party's flag-bearer primaries but he would not go ahead and contest simply because he believes he is competence.
"Inwardly, I know I also have the competence but is it wise for me now immediately after two Akans?   Kufuor has been the President, Akufo-Addo follows from the Eastern Region, and then there is a third Akan to follow?
"Doing introspection, I think it may not bode well for a party that is accused  as  an overly 'Akanistic' party. But not everybody aggress with me and that's the beauty of democracy", Osei Kyei-Mensah-Bonsu stated on Joy News.
When asked specially if his statement meant he does not support the speculated candidature dreams of Alan Kyeremanten,  the Majority Leader avoided a straight and categorical answer and said it was too early for him to stick his neck out at this point but in his view, it is not right for an Akan to be made to lead the NPP  to the presidential polls in 2024.
He continued: "these are early days. In future when I have to stick my neck out, I would stick my neck out. For now we should be working towards repositioning the party to retain power. That is the most important thing. There should not be any distractions. Look, we have climbed down from 169 Members of Parliament to 137. That should be our concern.  Are we able to bounce back, which is possible because we bounced from 122 to 169 so we can easily climb up again provided"
Kyei-Mensah-Bonsu explained why he deems himself fit for the flag-bearer slot but for his Akan origin: "I know that people who have served under me contested in even 2008 and I thought that if they qualified, then  I way back in 2008, also qualified to contest. But as they say in Akan, all the fingers are not equal and royal crowns are in hierarchies.
"You see in politics, it is not always even the best who always win. People may come with their own energy and to the extent that they are able to connect with the grass roots, they are the people that the people may vote for. Those people then would have the opportunity to surround themselves with people who have the relevant competencies to assist in governance.  So, yes, inwardly, I know I also have the competence but is it wise for me now immediately after two Akans?"
The current vice President, Dr. Mahamadu Bawumia has also been very widely predicted to be the most ideal contender the NPP can take to the 2024 polls.
He himself is yet to comment on that subject matter as he seems focused on supporting Nana Akufo-Addo to succeed in government.
Interestingly, Osei Kyei Mensah Bonsu, apparently not content with his current position as Majority Leader, has said publicly that if offered the position of a running mate to whoever becomes the NPP candidate, he would gladly accept the slot.
That statement has been interpreted by many as a subtle but strategic announcement that he, Osei Kyei-Mensah, has his eyes on the running mate slot.
But this is a man who he, himself, in his own constituency, is fast losing popularity and it begs for reason why the NPP in the quest for the most attractive political commodity would every pick Mr. Osei Kyei-Mensah-Bonsu.