SPORTS
Qatar 2022: African teams set new win record at FIFA World Cup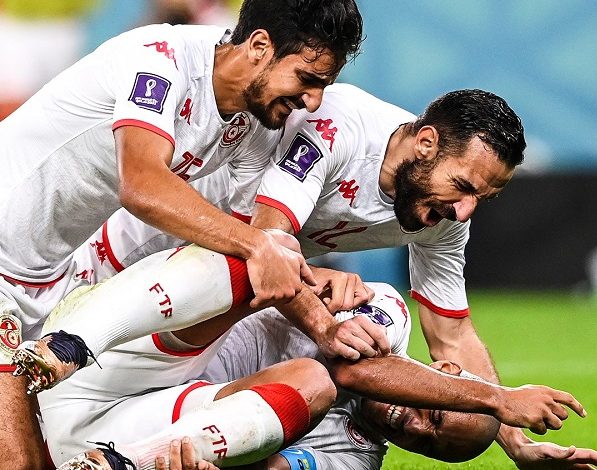 Tunisia's unexpected 1-0 triumph over France on Wednesday was the fifth win for an African team at this FIFA World Cup™, one more than the previous record.
It took African teams five days to get going at the FIFA World Cup Qatar 2022™, but once Senegal paved the way with a 3-1 success versus Qatar at the start of the second round of group matches (November 25), they have gone from strength to strength.
This has been a welcome shot in the arm for CAF's representatives, who have experienced more than their fair share of bad luck over the years at the tournament and who failed to qualify a single team for the last 16 of Russia 2018.
Because of that, few onlookers would have bet that African sides would end up rising to the occasion in Qatar, particularly after a start that saw them lose three and draw two of their first five games.
After Senegal's much-anticipated victory, centre-back Pape Abou Cisse told FIFA+ of his hopes that the result could spur nations from his continent onto greater things. "I hope that the other African teams can also win their matches," he said.
Over the course of a single World Cup, Africa had, up until this tournament, managed to register a maximum of four victories. This had previously happened on two occasions, and each time one team in particular stood out from the rest.
In 2002, Senegal set the tone with a huge upset versus holders France; they subsequently defeated Sweden in the round of 16. Eight years later, in South Africa, it was Ghana who showed the way with wins over Serbia in the group stage and United States in the last 16.
In Qatar, while reigning continental champions Senegal have lived up to expectations and delivered two of the five African victories, they are not the only team making waves. Tunisia pulled off a shock against France, while Morocco and Ghana have also both picked up a win.
Never before have four different African teams emerged victorious from a match at the same World Cup. They had recorded three successes at four previous competitions, in 2002 (Senegal, Cameroon and South Africa), 2010 (South Africa, Ghana and Côte d'Ivoire), 2014 (Côte d'Ivoire, Nigeria and Algeria) and 2018 (Nigeria, Senegal and Tunisia).
On Wednesday evening, the Eagles of Carthage's disappointment at not qualifying for the round of 16 naturally outweighed their delight at beating the defending world champions. It is likely, however, that the Tunisian players will appreciate the historical significance of their sole victory in Qatar with the passage of time.
"That's football; we need to keep working, and if we do that we'll enjoy more success in the future," defender Ali Abdi told FIFA+ after the game.
For the moment, Tunisia are the only African team to have been eliminated, and Senegal will now lock horns with England in the round of 16. Meanwhile, Morocco, Ghana and Cameroon, who take on Canada, Uruguay and Brazil respectively, could make Qatar 2022 an even more memorable experience for fans of African football.
But whatever happens in the 18 days that remain, this tournament will have set an impressive new benchmark for the continent.
Source: : www.fifa.com